Fone Pay users will get a chance to Win a Helicopter Ride to Everest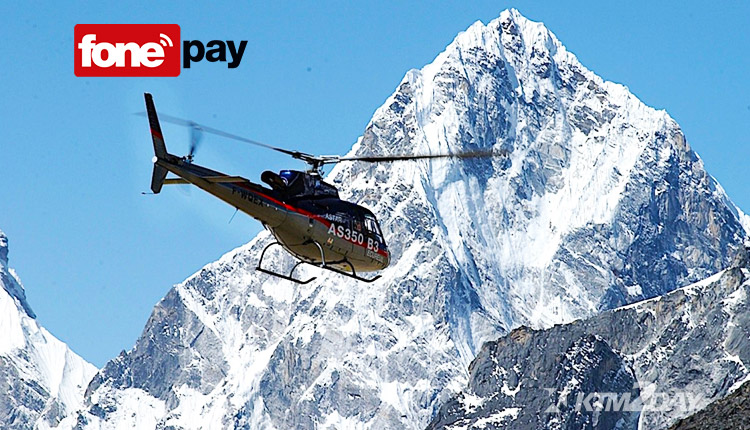 Customers and businesses who make payments through Fone Pay on the last day of the year 2078 BS will receive a special offer from Fone Pay Payment Services Limited, Nepal's leading payment system provider.
On New Year's Eve, 20 customers, including 10 customers and 10 merchants, will receive great incentives as part of this promotion. Ten lucky consumers and merchants will be able to take a helicopter tour of the world's tallest mountain, Mount Everest, and enjoy breakfast at Hotel Everest View, near the Everest base camp, as part of the offer.
Fone Pay has revealed a strategy for promoting digital commerce. From 12 p.m. on Chaitra 29 to 12 p.m. on Chaitra 30, the plan will be open to all customers and merchants. The winner will be determined by a lucky draw process.
Various banks, financial institutions, and payment service providers announced discounts and cashback offers on the same day. On the same day, NIC Asia Bank, eSewa, Laxmi Bank, NMB Bank, Mega Bank, Sunrise Bank, Garima Bikas Bank, Siddhartha Bank, Rastriya Banijya Bank, Sanima Bank, Civil Bank, IME Pay, Khalti and Prabhu Pay are offering Cashback schemes to it's customers who can get a 10% discount by scanning QR codes.
Similarly, when paying via QR at Bhojdeals, Foodmandu, Salesberry, Daily Grocers, Khanpeen, and other locations, customers can get a 25% discount.
Payments can be done quickly and easily using QR from any FonePay Network-affiliated bank or financial institution, as well as from the mobile apps of numerous payment service providers.