Gyapu launches G-Cash, an opportunity for consumers to shop for free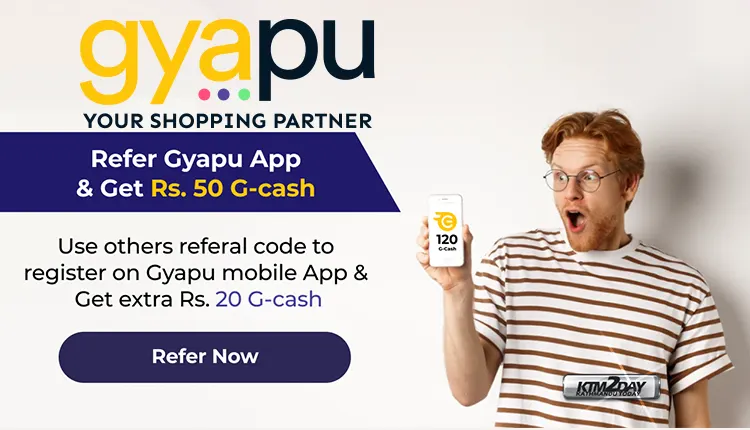 While shopping in Gyapu online marketplace, customers can now use G-cash to shop for free. G-Cash is online cash launched by Gyapu to be used on it's online shopping platform.
Gyanendra Khadka, Founder and CEO of Gyapu Marketplace, said that under Gyapu Mobile's app 'Refer and Earn' offer, customers can collect unlimited G-Cash and use it to shop for free.
To earn G-Cash, customers need to refer Gyapu app to their friends. Khadka informed that customers who have accepted the referral can also get a discount on their first purchase as well as various rewards for referring the link of Gyapu app to others.
Anyone registered with the Gyapu app will be able to participate in this offer. The user needs to be verified after downloading the Gyapu app and registering their name.
Once their account has been verified by email or mobile number, customers will be able to earn G-Cash by referring their friends to the Gyapu app.
G-Cash is a cash reward offer for its customers that can only be used when purchasing goods from Gyapu online store.
After downloading the Gyapu app, customers will be able to get Rs 50 cash in their account and another Rs 50 after verifying their mobile instantly.
Similarly, every customer will be able to get a bonus of one hundred rupees by downloading the Gyapu mobile app in this way.
Customers will get additional Rs 50 each time on each referral. The more referrals you get, the more G-Cash you will earn. Gyapu Referral Link can be shared through social media including WhatsApp, Messenger and Viber.

There will be Rs 100 balance in the G-Cash of the Gyapu account downloaded through the referral and an additional Rs. 20 will be credited to the balance account when referring the same link.
The company said that the referral will be valid only after the referring friend verifies his/her mobile and email account by downloading the Gyapu app.
The company launched the 'Refer and Earn' offer for customers on the occasion of its app being downloaded a million times.
Gyapu, which has been delivering free door-to-door service during the lockdown, has announced that it will give away a new car as a gift to one of it's mobile app downloaders within 2078 BS.