Global IME Bank brings Teej Offer with cashback and 20 percent discount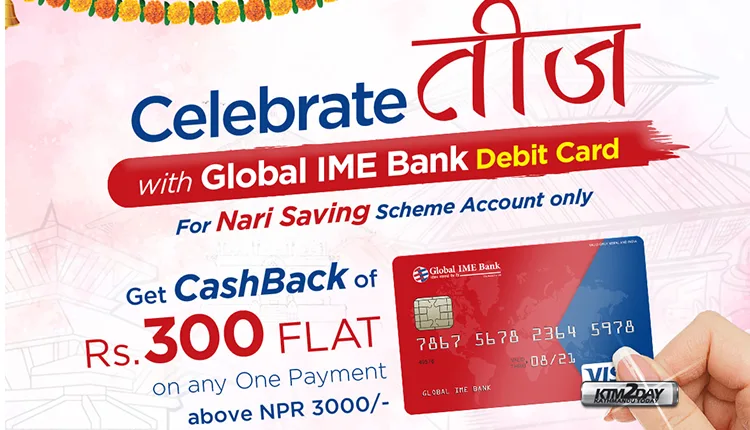 Global IME Bank has unveiled a special cashback scheme targeting its customers on the occasion of Father's Day and Haritalika Teej.
The bank has launched the cashback scheme to promote the use of mobile banking applications, QR payments and debit and credit cards.
Under this cashback scheme, 20 percent (up to Rs.300) cashback will be provided on the purchase of any gift for the father on the day of Bhadra 21 and Kushe Aunshi on Bhadra 22. Customers have to enter 'Gift to Father' in the Remarks text field while paying through QR code.
Similarly, when ordering food from Foodmandu on September 8, online payment using Global IME Bank's debit / credit card will get 20 percent (up to Rs500) cashback on the purchase.
To make the cashback scheme special, the bank has decided to give preference to women. Women who have "Nari Bachat" and "Nari Shakti Bachat" accounts with Global IME Bank will get 300 cashback on payments of Rs. 3,000 or more through POS / Ecom using debit card.
The scheme, which is targeted at female customers, will run from September 1 to 16.