GoPro Hero 9 Black with dual screens, 5K and longer battery life now available in Nepal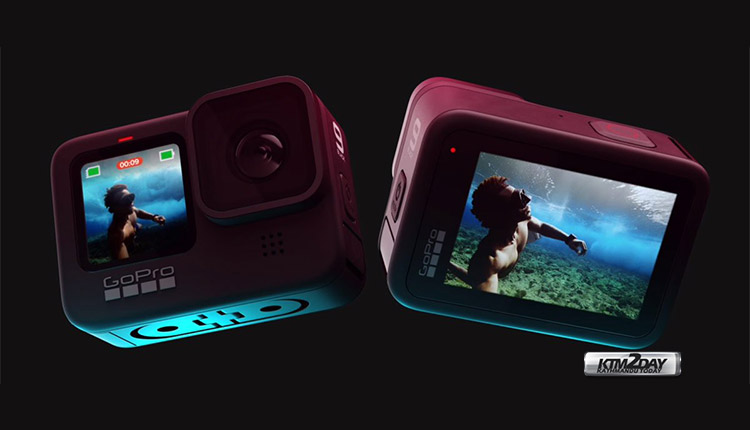 This Wednesday (Sept 16), GoPro announced the launch of the new GoPro HERO 9 Black . The action camera comes with a color LCD screen on the front, powerful battery and removable lens.
The new 23.6 MP sensor is one of the most significant hardware enhancements since 2012, when the company introduced the 12 MP sensor with the HERO 3.
The GoPro Hero 9 Black is capable of shooting at up to 5K at 30fps, in addition to taking pictures at 20MP. In addition, while shooting at 5K, you can take frames as photographs at 14.7MP. The images are assisted by HyperSmooth 3.0 technologies to help with stability and TimeWarp 3.0 , which offers more control in the acceleration of time-lapse videos.
The camera also has the option to use it as a webcam with Full HD resolution, with the help of a USB-C cable and the GoPro Webcam desktop application. The feature of streaming live videos is also present. This feature was made available as a beta update on Hero 8.
The GoPro Hero 9 Black also marks the return of removable lenses, which were not present in the previous model. The return of this feature was something very much requested by the users because it facilitates exchanges in case of cracks or scratches.
Another interesting change of the new model is the position of the USB-C connector , which was moved under the power button, in order to facilitate the use of the camera while it is connected. Speaking of recharging, it also confirms the 1,720 mAh battery , a 30% increase in autonomy compared to previous Hero 8 Black, a very important optimization that will please users a lot.
To the delight of older users, the camera lens cap is back and is now compatible with the Max lens module, which offers more stability and an ultrawide field of view. Other modules available since the launch of HERO 8 are also compatible with the new model, including the two-way microphone, the external display and the flash lighting module.
HERO9 Black Specs + features:
• New image sensor
• Video: 5K30, 4K60, 2.7K120, 1440p120, 1080p240 and more
• Photo: 20 MP
• New 1.4 "front color display with real-time viewing and modes status
• 2.27 "larger rear touch display with touch zoom
• 30% longer battery life than HERO8 Black with better cold weather performance
• Removable rechargeable battery
• HyperSmooth 3.0 with horizon leveling built into the camera
• TimeWarp 3.0 with real speed and half speed
• Live broadcast in 1080p
• Webcam mode in 1080p
• PowerTools: HindSight, LiveBurst, Scheduled Capture and Capture Duration
• SuperFoto + HDR Night Lapse Video
• RAW Photos
• Digital lenses
• Voice control with 14 commands in 11 languages ​​+ six accents
• Three microphones with advanced wind noise reduction
• Stereo audio + RAW
• Larger speaker for playback enhanced audio
• Removable lens cover
• Built-in folding mounting rods
• Sturdy + waterproof up to 10 m
• Compatible with Max Lens Module, Lighting Module, Display Module and Media Module for HERO9 Black
GoPro HERO 9 Black Price in Nepal
The GoPro HERO 9 Black is available in Nepali market at a price tag of Rs 58,000.