Govt bans entry of all passengers, including Nepalis, from midnight March 20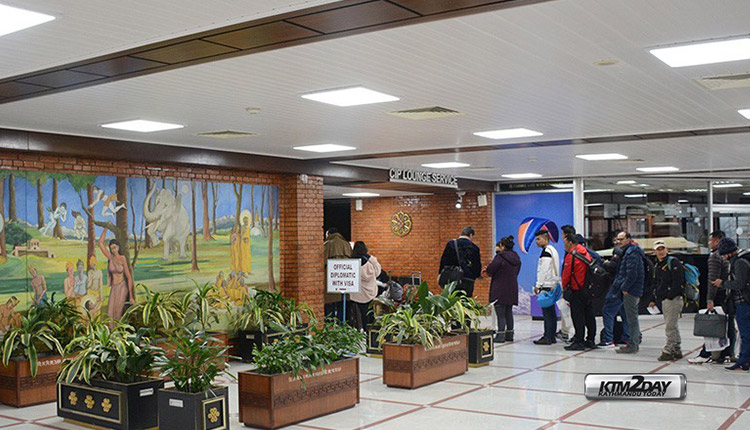 The government has banned all passengers, including Nepalis, from entering Nepal from European Union territories, including the United Kingdom, West Asia, Gulf countries and countries like Iran, Turkey, Malaysia, South Korea and Japan. The ban will come into effect from March 20 midnight and will remain in place until April 15.
All passengers transiting in these locations are also prohibited.
Movement from China, however, has remained inexplicably open.
A meeting of the high-level coordination committee led by Deputy Prime Minister and Defense Minister Ishwar Pokhrel took these decisions on Wednesday.
"The decision means that all Nepalis who are currently outside the country have to enter Nepal by Friday midnight," said Rajan Pokhrel, director-general of the Civil Aviation Authority of Nepal, one of the members of the committee. "As the Indian government has banned the entry and exit of all passengers from its airports, we didn't deem it necessary to ban passenger movement to India."
There are, however, concerns regarding the status of Nepalis who are currently abroad, especially if their visas expire and they do not have enough money to remain abroad.
According to the committee, this issue will be handled by Nepal's diplomatic missions abroad and coordinated by the Foreign Ministry.
"This is a practical issue that needs to be resolved by the Foreign Ministry," said Ram Chandra Tiwari, information officer at the Department of Immigration. "Such issues will be settled through diplomatic channels."
The ban on entry comes in response to the ongoing Covid-19 outbreak that has paralysed the world. As the coronavirus has spread to over 160 countries, numerous nations have placed travel bans and are shutting down borders in order to contain the spread of the disease.
This is the third step of restriction after the government on March 2 suspended the visa-on-arrival regime for nationals of five countries — China, South Korea, Japan, Italy and Iran which were badly affected by the COVID-19 pandemic.