Gyapu's Dashain Tihar Dhamaka: Up to 80 percent discount on purchases, chances to win Aprilia scooters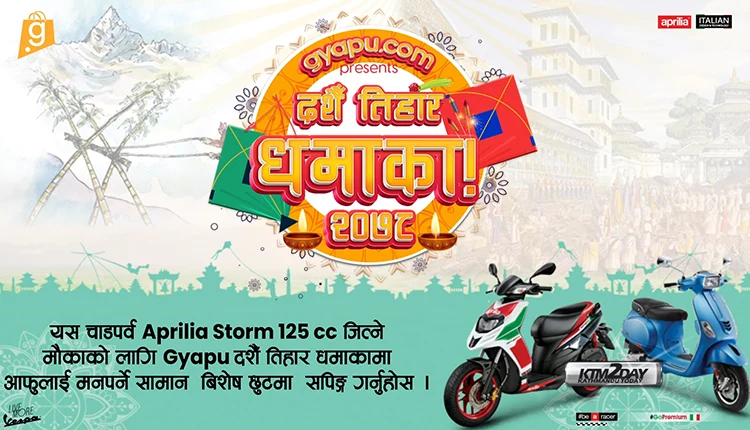 On the occasion of Dashain-Tihar, the most important festival for Nepalis, the online e-commerce company Gyapu has introduced an offer of Dashain-Tihar Dhamaka offer to its customers. The company has stated that customers can win an Aprilia scooter as part of this promotion, which began on Friday and will run until the end of the month.
Customers who purchase goods from the Gyapu online store can receive up to an 80% discount and the opportunity to win an Aprilia scooter as a bonus. Electrical goods, mobile gadgets, and clothes will all be eligible for this reduction, extended to all types of items.
As part of this promotion, consumers who pay using NIC Asia Bank's Debit or credit card will receive up to 15 percent cash back. Customers who pay with several different cards would receive up to Rs 1,500 reward on each transaction, the business added.
Similarly, the company has stated that if you purchase items using the NCC Bank's Debit / Credit / NCC Smart User Card, you would be eligible for a cashback incentive of up to Rs 500 or a 20 percent discount. Every day, two persons will be selected from among those who place orders for goods through the e-service to receive 100 percent cash back through a lucky draw, according to reports.