Hero Lectro Electric Bicycles Price in Nepal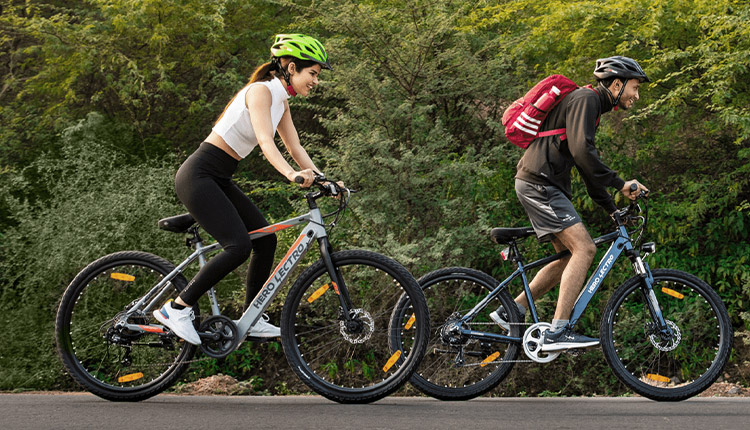 Recently, electric powered four-wheeled vehicles to bicycles have entered the Nepali market in sufficient quantity. Imports of electric vehicles have been on the rise since the government announced a policy of giving priority to electric vehicles, replacing diesel and petroleum-powered vehicles.
Lately, big business houses who have been selling diesel and petrol vehicles have also started importing electric vehicles.
Nimbus International Pvt. Ltd. under Nimbus Group has introduced electric bicycles in Nepal. The company has brought Indian brand Hero Lectro electric bicycle to Nepal.
The company has stated that it has imported 9 different models of bicycles. Lectrois a popular electric bicycle brand in India that is part of Hero Group.
How much does it cost?
The company has imported 9 different models of electric bicycles to Nepal. The company has stated that the electric bicycles imported to Nepal have 250 watt lithium ion batteries.
These bicycles can travel 30 to 60 kilometers on a single full charge and can also be pedaled. The batteries have IP67 certification for water and dust proof.
Among the models brought by Nimbus, the price of C3 model electric bicycle has been fixed at Rs. 75,900.
Similarly, the C5 model is priced at Rs. 80,900, Rs. 90,900 for C6 model, also Rs. 90,900 for C7 model and Rs. 95,900 for C7+ model.
Similarly, the C8 model costs Rs 95,900, the C8i model costs Rs 104,900 and finally the C9 model at Rs 122,900 and the F6i model Rs 139,900.
| | |
| --- | --- |
| Hero Lectro Electric Bicycles Models in Nepal | Price NRs. |
| Hero Lectro C3 -Range 30 kms | 75,900 |
| Hero Lectro C5 – Range 30 kms | 80,900 |
| Hero Lectro C6 – Range 35 kms | 90,900 |
| Hero Lectro C7 – Range 35 kms | 90,900 |
| Hero Lectro C7+  Range 35 kms | 95,900 |
| Hero Lectro C8 – Range 30 kms | 95,900 |
| Hero Lectro C8i – Range 35 kms | 104,900 |
| Hero Lectro C9 – Range 40 kms | 122,900 |
| Hero Lectro F6i – Range 60 kms | 139,900 |