Honda Activa Premium Edition Launched in India
Honda Activa, India's best-selling scooter, now comes in a fancier Premium Edition.
A base model has been released for INR. 75,400, making it exactly Rs 1,000 more expensive than the high-end Activa DLX model.
Standard Activa 6G models start at INR. 72,400. (ex-sh, Delhi).
Honda's Activa Premium Edition is aimed squarely at millennials. The Activa Premium edition will have the same hardware and software features as the Activa DLX model.
Activa's speedy performance is already a selling point, so there's no need to improve upon it. The primary motivation for this new variation is to test the waters beyond the established, family-friendly market for Activa.
The Premium Honda Activa has many convenient options. The new and improved Activa Premium is guaranteed to turn heads wherever it goes.
It reflects modern youth culture and its preferences. The scooter's main selling point is its golden wheels, which give it a sophisticated appearance. The Activa Premium's front turn signal housing is adorned with a shiny gold plating.
The front Honda logo is the same color. The 'Activa Premium' logo on the side is now shiny and gold.
The scooter's interior and seat cover are both a warm brown color. These alterations to the scooter's appearance help give it a more engaging overall look. Both the interior and the seat cover of a regular Activa are black.
Mat Marshal Green Metallic, Mat Sangria Red Metallic, and Pearl Siren Blue are the new Activa Premium colors.
These help expand users' potential for customization. The brown interior and seat cover, along with the golden accents, appear to provide a striking contrast to the other three colors.
The Activa Premium, which some may find overly flashy, will certainly stand out to passers-by. Decent Blue, Matte Axis Grey Metallic, Matte Magnificent Copper Metallic, Black, Pearl Precious White, and Rebel Red Metallic are some of the more subdued color options for the base Activa.
Performance of Honda Activa Premium
The Honda Activa Premium model looks great, but it offers no additional amenities or improved performance. The motor that propels the Activa has a displacement of 109.51 cc, and it is capable of producing 7.80 PS at 8,000 rpm and 8.84 Nm of peak torque at 5,500 rpm.
It rides on a telescopic front suspension that can be adjusted in three different ways, and a spring suspension in the back that can be set at one of three different heights.
There are two 130 mm drum brakes, one at each end, to do the stopping. Activa's front wheel measures 12 inches and is fitted with a 90/90 tyre, while the rear wheel measures 10 inches and is shod with a 90/100 tyre.
Activa's primary features include the eSP technology, an ACG starter motor for silent starts, programmable fuel injection, an engine start stop control, and an LED DC headlamp.
There is a lot of room under the seats, a big instrument panel, and a fuel fill cap that is conveniently located outside. The new Activa 6G model offers 10% better gas mileage than its predecessor.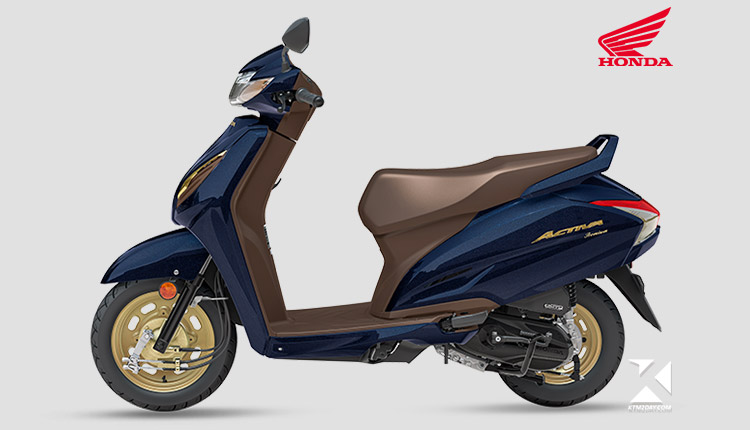 Specifications of Honda Activa Premium
Engine Type :

Fan Cooled, 4 Stroke, SI Engine
Displacement : 109.51 cc
Max Net Power : 5.73 kW @ 8000 rpm
Max Net Torque : 8.84 Nm @ 5500 rpm
Bore : 47.000 mm
Stroke  : 63.121 mm
Fuel System : PGM-Fi
Compression Ratio : 10.0±0.1
Air Filter Type : Viscous Paper Filter
Starting Method : Kick/Self
Clutch Type : Automatic
Frame Type : Under Bone
Front : Telescopic
Rear : 3-Step Adjustable Spring Loaded Hydraulic
Battery : 3.0 Ah
Head Lamp : LED
Tyre : Tubeless
Brakes : Front/Rear Drum 130mm
Honda Activa Premium Edition Price Nepal
Honda has just launched the Premium Edition of the Activa scooter in the Indian market. The Nepali market is expected to witness it's launch in the new year of 2023.