Huawei Band 4 is official ! Set to compete with Xiaomi Mi Band 4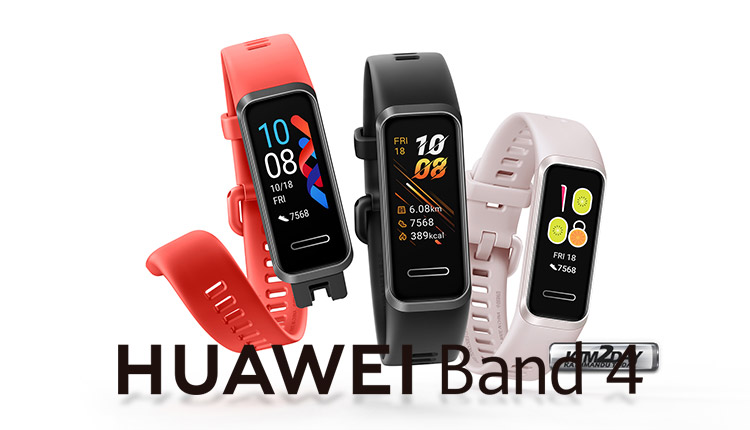 Huawei was supposed to present its new Smart Band 4 during the Mate 30 launch event in September. However, this announcement came today, where the company also announced the date of the foldable Mate X smartphone availability for the Chinese market . In fact, the Band 4 is quite similar to the Honor Band 5i.
As the manufacturer emphasizes, the new bracelet has an improved interface with visual effects, a more convenient connector for charging, technology to determine the level of blood oxygen saturation, monitoring of heart rate and sleep quality.
The Huawei Band 4 features a 0.96-inch color display and 80 x 160 pixel resolution. The charging port is built into the strap.
Specifications of the Huawei Band 4
80mm x 160mm TFT 0.96 inch screen
Processor: Apollo 3
91 mAh Battery
Waterproof up to 5 meters deep
Colors: Pink Sakura, Graphite Black and Amber Sunrise
There are nine sports modes, including running, walking and cycling outdoors and indoors, elliptical and rowing training and free exercise. Also a set of everyday functions – identification of calls, search for a smartphone, remote control for the camera, smartwatches, reminders to warm up, and so on.
The 91 mAh lithium battery provides up to 6 days of battery life with included sleep and heart rate monitoring functions, and up to 9 days without constant heart rate monitoring.
The model is presented in three colors — orange, white and black. Huawei Band 4 will be available from October 22 at the recommended retail price of $28.
A competitor to Xiaomi Mi Band 4?
Any smartband that is launched on the market today is inevitably compared to Xiaomi's Mi Bands. In this case, the most recent is the Xiaomi Mi Band 4, adored by its new OLED display, it's main highlight feature.
At first glance, the Huawei Band 4 has the same functions as Xiaomi Mi Band 4 (sleep monitoring, exercise, call notifications and messages) and possibly similar battery life. However, the decisive factor will be the screen. The Mi Band 4 has a screen with superior technology and quality.