Huawei's MateBook E 2-in-1 launched with 12.6-inch OLED display and Core i7 processor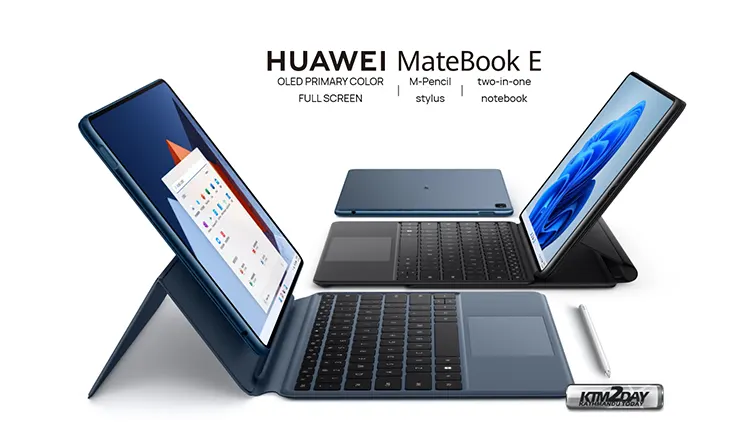 Since the United States imposed a ban on Huawei, the company has moved its focus to other consumer electronic areas including wearables and laptops. A new line of smartwatches and a new convertible laptop were unveiled at Huawei's huge event in China today (Nov. 17). If you recall, this isn't the brand's first hybrid laptop. The Huawei MateBook, a two-in-one laptop, was one of the first laptops from Huawei in 2016. The new MateBook E's portability is still a major selling factor. Clearly, Huawei is aiming to take on the likes of Apple's iPad Pro and Microsoft's Surface Pro series in the market for high-end tablet computers.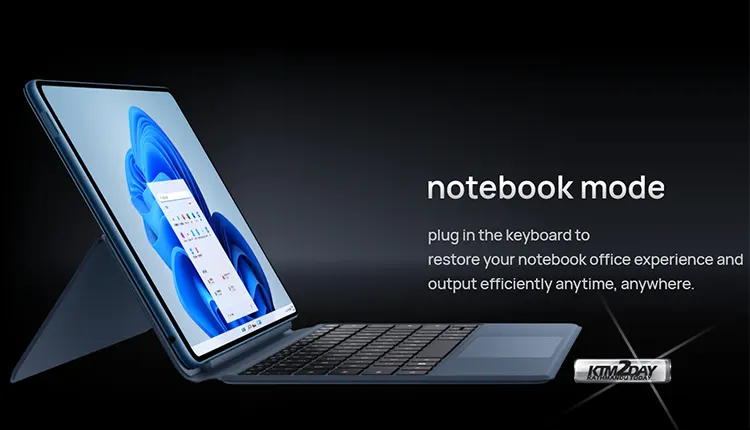 Design
You can take the Huawei MateBook E with you everywhere you go because it is only 7.9mm thick and weighs just 709 grams. It has a 12.6-inch OLED display with a resolution of 2560 x 1600 pixels, a 16:10 aspect ratio, and a brightness of 600 nits. The MatePad Pro 12.6's 90 percent screen-to-body ratio ensures that the bezels on all four sides are extremely tiny.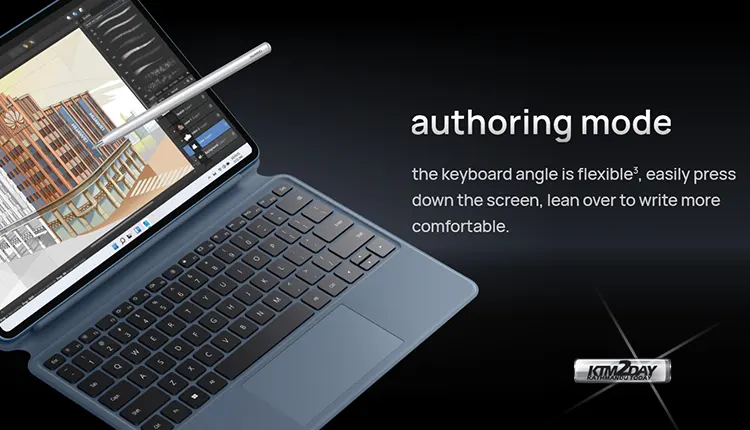 It's worth noting that the MateBook E's design is very identical to that of MatePad Pro 12.6's, but its processor and software are vastly different. The MateBook E is more expensive and more powerful than the MatePad Pro 12.6, although the price difference is negligible. The MateBook E is a real two-in-one laptop, but the MatePad Pro 12.6 is a tablet with a keyboard attachment.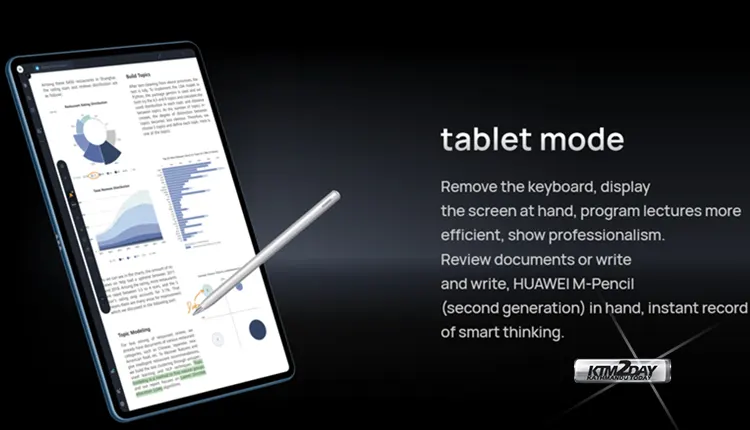 A soft-touch coating on the rear of the Huawei MateBook E is available in Starry Blue and Nebula Grey. Both a simple kickstand and a full-sized keyboard with what Huawei refers to as a rail slide design are available. An adjustable lighting and a USB-C port are included in the USB-C version of the second keyboard accessory, which is exclusively available for i7 models.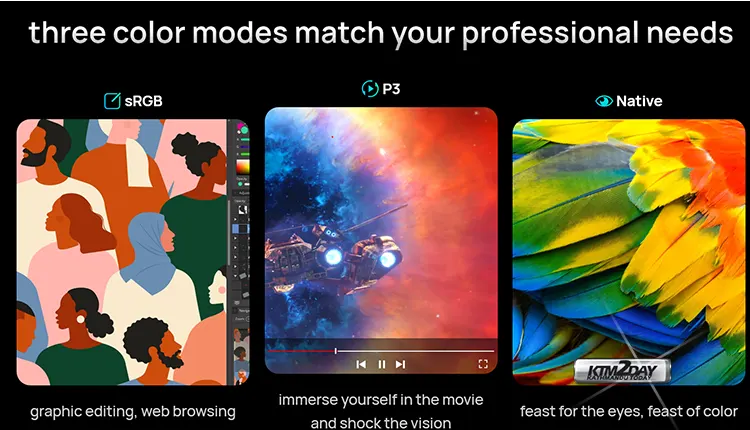 It's worth noting that the keyboard is also compatible with Huawei's NFC-based share feature (the area is around the touchpad). For multiscreen collaboration, you may just tap your Huawei smartphone or tablet to the laptop.
When the MateBook E is connected to a keyboard, Windows 11's laptop mode is automatically activated. The tablet mode is activated by simply lifting it up from the keyboard accessory.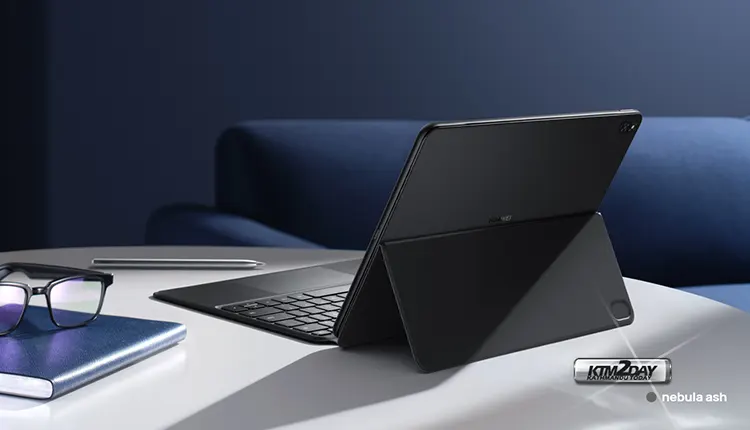 Huawei's second-generation M-Pencil is also supported on the MateBook E. You can charge your stylus wirelessly as well as connect it to the laptop by magnetically attaching it to it.
Finally, a fingerprint-enabled power button is located on the side of the convertible laptop.
Specification
When it comes to performance, the MateBook E doesn't slack down at all. There is a top-of-the-line variant with Intel's 11th Generation Core i7 processor and Intel Iris X graphics that can be purchased with 16GB of RAM and 512GB of PCIe SSD.
The convertible is also available in cheaper and less powerful models, like as the base model with an 11th Gen Core i5 processor, 8GB of RAM, and 256GB of storage. The Thunderbolt 4 port on the new 2-in-1 laptop may be used to connect an 8K monitor and Wi-Fi 6.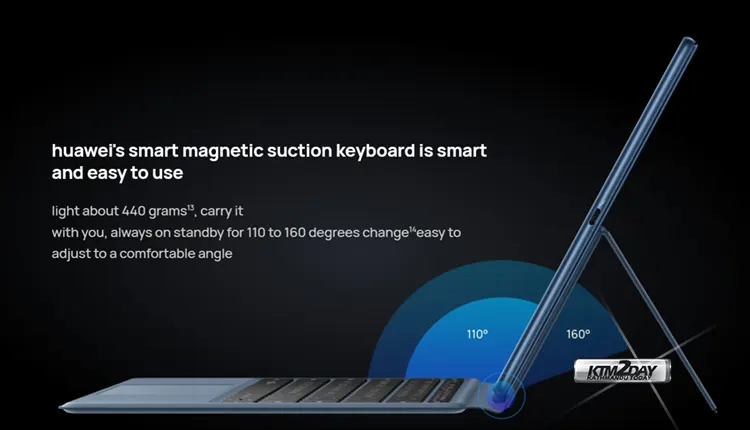 A shark fin fan and several air vents on the side of the Matebook E ensure that the device keeps cool even while under heavy load, according to Huawei.
There is an 8MP camera on the front and a 13MP camera with LED flash on the rear. Huawei Sound-tuned speakers are also included in the package.
It comes with a USB-C 65W charging adapter, which can recharge the battery to 54% in 30 minutes. Around 90 minutes is required for a full charge. Huawei estimates that the MateBook E's 42Wh battery may last between 5-8 hours of use, depending on the user's habits.
Huawei MateBook E Price in Nepal
Starting at 5999 yuan ($940), Huawei's MateBook E is equipped with an 8GB RAM and 256GB storage. The stylus is included in the i7 top-end model's pricing, while the keyboard is included in all of them.
The following is the list price for the Huawei MateBook E:
i5+8GB+256GB+keyboard :  CNY 5999 or $940
i5+16GB+512GB + keyboard: CNY6999 or $1098
i7+16GB+512GB + keyboard: CNY7999 or $1255
i7+16GB+512GB + keyboard/stylus: CNY 8699 or $1365
Until December 1, 2021, the MateBook E 2-in-1 convertible will be available for purchase in China.