Hyundai to replace Kona and Ioniq electric-vehicle batteries over fire risk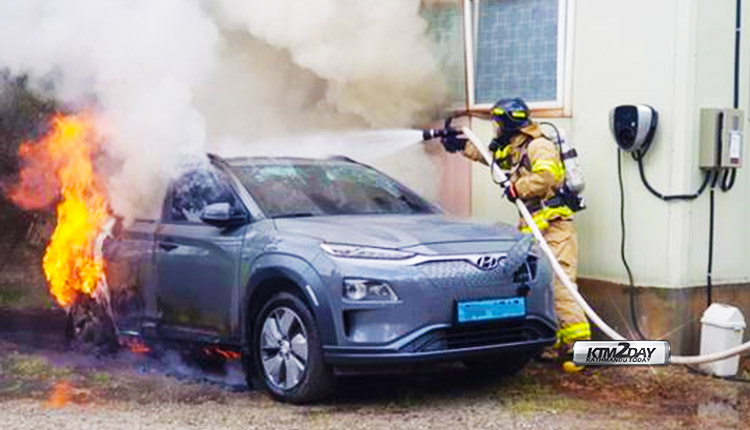 Hyundai is to replace the electric batteries in nearly 82,000 of its electric vehicles worldwide because of a fire risk.
Most of the affected vehicles are Kona cars built between 2018 and 2020, thousands of which have been sold in the UK, vehicle-registration data suggests.
Some buses and Ioniq cars are also affected.
The recall is expected to cost Hyundai about £640m ($900m).
While official data shows that tens of thousands of Kona vehicles have been registered in the UK, not all are electric vehicles. Hyundai has not responded to a request for clarification on how many cars may be affected.
The South Korean company has been investigated by safety authorities in its home country, Yonhap news agency reports.
An interim investigation found battery fires in the Kona may have been caused by defects in the battery cells made by LG Energy Solution – something this company does not accept.
An initial fix, months ago, upgraded the Kona's battery-management system, designed to limit its charging capacity for safety reasons.
But in January, one of the vehicles upgraded caught fire in South Korea.
And Hyundai is now set to replace the entire battery in:
75,680 Kona electric cars
5,716 Ioniq electric cars
305 Elec City buses
Hyundai told Yonhap it would "consult" with LG Energy Solution over sharing the cost of the recall.
But LG Energy Solution told Reuters Hyundai had "misapplied" its guidance for setting up the fast-charging system.
Earlier this month, Mercedes-Benz issued a recall for cars, including more than a million in the US, over problems with its emergency-call system, which could have sent ambulances to the wrong location.
And Tesla recalled large numbers of its Model S and Model X cars over its touchscreens failing, which could have resulted in the loss of rear-view cameras, temperature controls and audio alerts.