IME Pay brings "Griha Prawesh" offer for new app users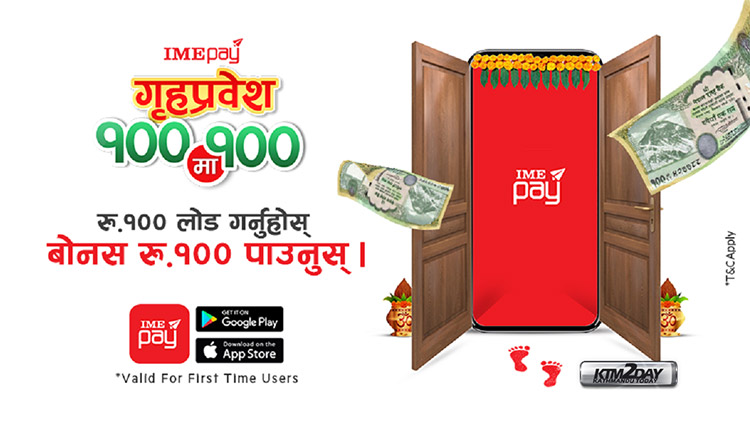 'IME Pay', promoted by IME Digital Solutions Limited which is operated by IME Group, is targetting new app users with the new offer named "Griha Prawesh – 100 on 100". In this offer, App users will get Rs 100 credited instantly to their account when they load Rs 100 balance.
To participate in this scheme, an app user has to download IME Pay from Google's Play store or Apple's App Store and register their mobile number. Additionally, the user also has to fill in the Know Your Customer (KYC) form to get verified. Then, a balance of Rs 100 has to be made using any payment medium.
The user will then be able to pay for mobile recharge or use other online bill payment services such as water, electricity, internet tariffs and government fees, tickets, etc. from their own mobile phones from anywhere.
In addition, the app user will also be able to pay through QR code at any businesses. For all these services, it is mandatory to download IME Pay. This plan will be valid only for 1 month from April 21 to May 21 (Baisakh 8 – Jestha 7, 2078).
The company has set certain guidelines and conditions to operate the scheme in a systematic manner and make it accessible to the general service recipients. All rights in that regard will be vested in the company itself.