Core i9-10850K is the new affordable 10-core chip from Intel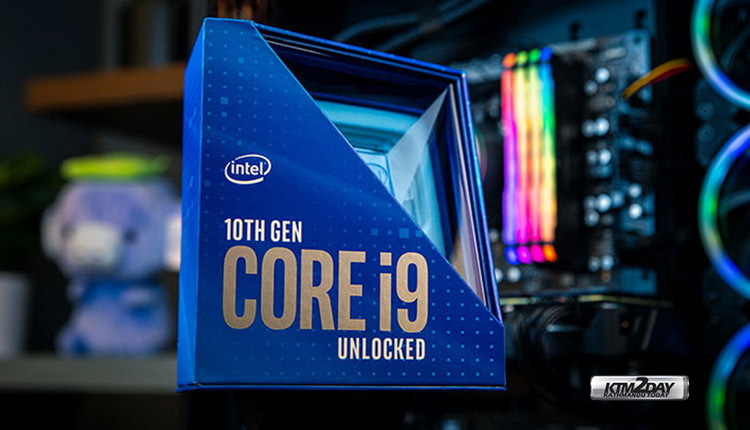 Intel has unveiled a new "near-flagship" ten-core desktop processor called the Core i9-10850K. With ten cores, the model comes to complement the tenth generation Core line (Comet Lake-S) targeted for desktops. The new processor is a slightly more affordable alternative to the flagship ten-core Core i9-10900K.
The Core i9-10850K processor differs slightly from its "big brother" by its clock frequencies reduced by 100 MHz. As a result, the base frequency of the Core i9-10850K is 3.6 GHz, and the maximum automatic overclocking frequency for one core in the Thermal Velocity Boost mode reaches 5.2 GHz.
All ten cores in the same mode are capable of automatically overclocking up to 4.8 GHz. The suffix "K" in the name indicates that the processor has a free multiplier, which means that it can be manually overclocked.
Despite the decrease in frequency, the TDP level remained the same at 125 W. This level of consumption, we note, is typical for work with the base frequency. While with most intensive overclocking, the chip is able to draw twice as much TDP with up to 250 watts.
The Core i9-10850K processor, like other members of the Comet Lake-S family, is made in an LGA 1200 package and is compatible with motherboards based on Intel 400 series chipsets.
Like other models in the line and the tenth generation Core chips for notebooks, the Intel Core i9-10850K also supports Optane, Wi-Fi 6 (Wi-Fi 802.11ax), USB 3.2 Gen 2 (which actually corresponds to USB 3.1), PCI Express 3.0 and Thunderbolt 3.
Reducing the clock speed has also resulted in lowering costs of this processor. The recommended price for the Core i9-10850K is $ 453, which is $ 35 (or almost 7.2%) cheaper than the flagship Core i9-10900K. This makes the new product a more attractive choice for those who are not chasing every megahertz or who believe in their overclocking powers.
In addition, the withdrawal of the Core i9-10850K solves another urgent task: a processor appears in Intel's assortment that can compete more convincingly with the 12-core Ryzen 9 3900X, which is currently sold in stores for about $ 430.
Intel Core i9-10850K Specs :
10 cores and 20 threads;

Base frequency of 3.6 GHz;

Maximum frequency of 4.7 GHz;

20 MB cache;

125 W TDP;

UHD 630 graphics;

2993 MHz DDR4 memory support;

Unlocked core for overclocking (hence the letter 'K' in the name)