Kathmandu Metro preparing to install high-mast lights in 80 locations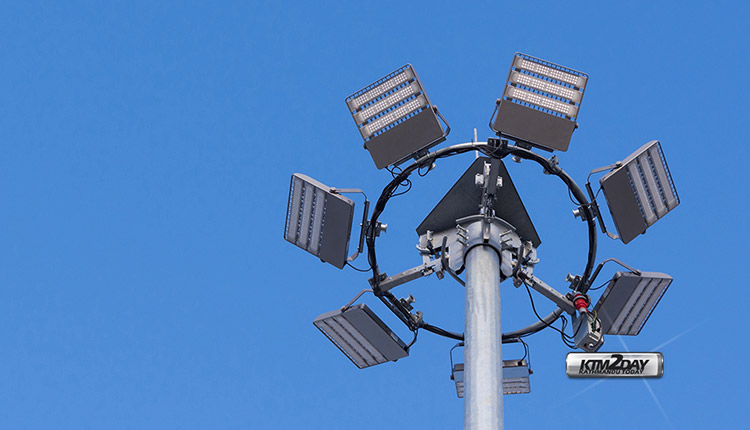 Installing high-mast lights in several parts of Kathmandu Metropolitan City is being planned. High-mast lights will be installed at 80 different locations across the city, according to Kathmandu Metropolitan Office.
At a cost of Rs. 99 million, high-mast lights are being erected in 80 locations in Kathmandu, according to Kathmandu Metropolitan Corporation (KMC). The metropolis plans to put high-mast lights in various locations as a way to make the metropolis a more visually appealing area.
Work had been suspended earlier by the metropolis since the contract could not be signed, even though the metropolis had hoped to finish earlier. According to the city's information officer, a 50-foot pole will be erected and installed with high luminous bulbs. Currently, these type of lights are only installed at airports in the country.
"We plan to put 88 high-mast lights in 80 locations across Kathmandu. Work has already begun in this process. The contract has not been signed till now, thus the project has been put on hold. It's time to move on to the next phase of the project "he stated.
According to the officer, the use of high-mast lights will play a significant part in advancing the city of Kathmandu with bright lights.
"Currently, the Nepal Electricity Authority (NEA) is working to increase the power consumption. Our scheme will also help in the consumption of electricity. After installing such lights, the safety of the citizens will be ensured and the movement will be easier," he said.
According to him, high-mast lights can be seen from up to 500 meters from the center of the light. He said that this would reduce the incidence of theft along with peace and security.
Mayor of the metropolis Vidya Sundar Shakya had put forward the idea of ​​installing Himax lights in 10,000 places in 32 wards of Kathmandu metropolis and developing the metropolis as a bright city.
However, his work had not yet progressed. With just a few months remaining before the end of his term, he is determined to accomplish the plan in order to secure his legacy.