Manushi Laghubitta issues IPO for general public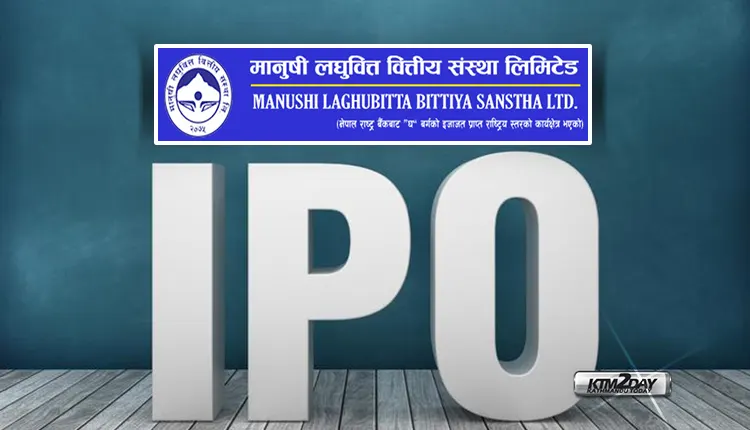 Manushi Laghubitta Bittiya Sanstha Limited has issued ordinary shares for the general public from today i.e. August 11.
Applications for the IPO of the organization can be submitted as early as Sharawan 31 and as late as Bhadra 9th. Investors will be able to apply for a minimum of 10 lots and a maximum of one thousand lots. Based on the number of applications for IPO in the past, it seems appropriate to apply for 10 lots in the company's IPO.
Out of the total 3,93,750 ordinary shares to be issued by the organization, 0.5 percent of the paid-up capital i.e. 5,469 shares have been reserved for employees and 5 percent or 19,688 shares have been reserved for collective investment funds while the remaining 368,593 shares have been made public for Investors to apply. Microfinance is going to issue 36 percent of the total issued capital.
Applicants wishing to apply for the IPO of the organization can apply through C-ASBA member banks and financial institutions and through the MeroShare website and app.
The organization had submitted an application to the Securities and Exchange Board of Nepal (SEBON) on Baisakh 13 seeking permission to issue IPOs of ordinary shares. The organization has submitted an application to issue 3,93,750 IPOs at the rate of Rs 100 per share, equivalent to Rs 39.37 million. Nepal SBI Merchant Banking Limited will act as the issuer and sales manager for the company's IPO.
The second annual general meeting of the organization held at Hardik Hotel, Bagbazar, Kathmandu on Tuesday passed a special resolution to issue the IPO.
As of the third quarter of the last fiscal year, the organization has earned a net profit of Rs. 11.9 million. The profit is 126.63 percent higher than the same period last year. Last year, the company's profit was limited to Rs 5.279 million. The company's net interest income also increased by 21.81 percent to Rs 68 million by the third quarter. The organization had earned net interest income of Rs. 49.9 million in the corresponding period of the previous year. The current paid up capital of the organization is Rs. 70 million and the reserve fund is Rs. 34.2 million.