MediaTek's first custom SoC to power Sony's upcoming PlayStation VR2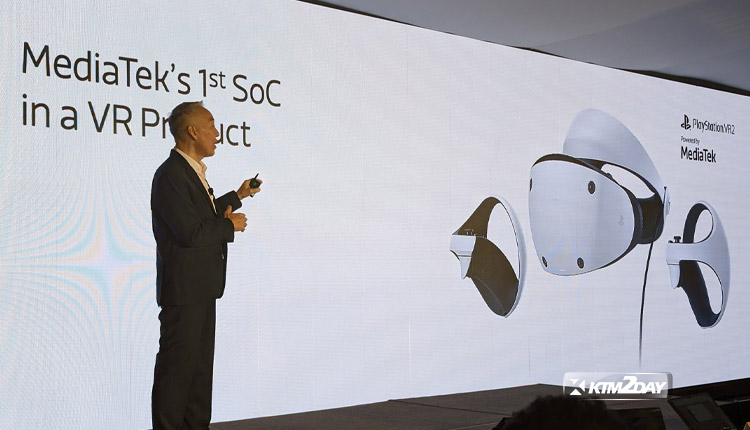 MediaTek has confirmed that the upcoming PlayStation VR2 would be powered by its first SoC in a virtual reality headset.
MediaTek's surprising entrance into virtual reality was disclosed by corporate vice president Vincent Hu during the company's annual Executive Summit in Sonoma, California.
The PlayStation VR 2 requires a PlayStation 5 to run games and other experiences via a wired connection, unlike competing headsets like the Meta Quest 2.
This means that the PS VR2's display, along with the micro-controllers in each of the included Sense controllers, will be responsible for coordinating communication with the wireless gamepads rather than actually running the games themselves on the custom MediaTek system-on-chip (SoC) in the headset.
MediaTek declined to identify the specific chips it was employing, but Hu did say they were "done on a bespoke" for Sony's system.
It's a big win for MediaTek, which has been slow to break into the virtual reality (VR) and extended reality (XR) markets.
MediaTek is making a statement with this announcement, as rival chipset company Qualcomm has been pushing its Snapdragon XR chips to power virtual and mixed reality headsets for some time.
However, with the PS VR2 poised to become a major force in the market (at least in the gaming sector), this is a clear signal of intent from MediaTek.
The company's chip division has been expanding rapidly into important consumer hardware. In order to compete with Qualcomm's upcoming Snapdragon 8 Gen 2 announcement next week, it released the Dimensity 9200, a flagship phone chip, earlier this week.
Beginning next Tuesday, November 15th, you can place a pre-order for the PS VR2 headset, which will ship in February and retail for $549/£529.