Mercedes-Benz introduces a symbiotic electric car VISION AVTR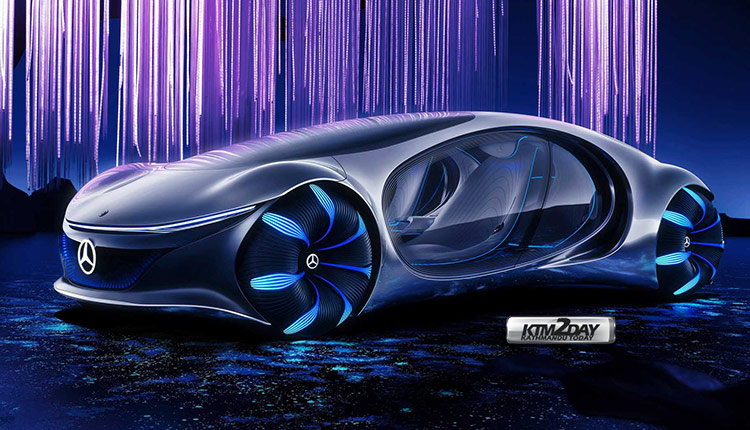 Mercedes-Benz presented during CES 2020 a car inspired by the film Avatar, the name of the vehicle is Vision AVTR and was attended by James Cameron, director of the film, in the project. Starting with the design, the car has very unusual wheels which are inspired and based on the design of plant seeds, according to Mercedes.
The AVTR also has 33 scales in the back of the vehicle that could be used for communication with people and vehicles outside the car. As it is a concept car focused on technology and design, the idea is to present different technological implementations in which it would have use without them being installed.
For example, the concept is able to feel the pulse of the occupant and transmit his heartbeat through the rhythmic pulsation of the backlight. The atmospheric illumination of the interior itself, its architecture and chairs imitate the dwellings of Na'vi and their hammock leaves. Rims with LED inserts mimic wood cuts, and the 33 active aerodynamic flaps in the rear of the Vision AVTR roof should remind you of the spiracles of the inhabitants of Pandora's forests.
For finishing the interior of the concept, secondary materials were actively used – for example, artificial leather made from recycled "sources". The wood trim elements are made from components from renewable sources: mention is made, for example, of the roots of outdated trees from the Amazon rainforest.
A similar approach was used to create the battery: it does not contain rare earth elements and works on the principles of organic chemistry. At the same time, the battery pack with a capacity of 110 kWh is capable of providing a range of up to 700 km, and Mercedes-Benz Vision AVTR electric motors develop up to 470 hp.
It is curious that the fully-controlled chassis of the concept allows it to move sideways, like a crab: the deviation of the motion vector from the longitudinal axis of the electric vehicle can reach 30 degrees. Vision AVTR is completely devoid of controls, as it is completely autonomous.
It is clear that the wheeled Avatar has no serial prospects: the concept was created to demonstrate the idea of ​​symbiosis between man, transport and nature. However, some ideas implemented on it in the coming years may well be applied on the company's production machines.