Xiaomi Mi True Wireless Earphones 2 Launched in India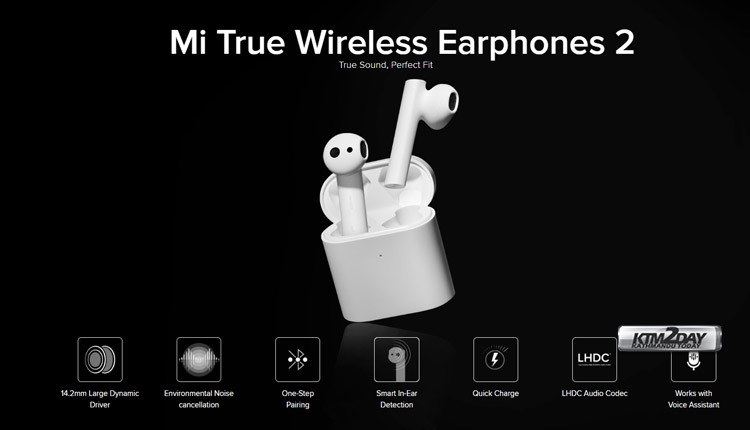 The Xiaomi Mi Air 2S are Xiaomi's most premium earphones and has been recently launched in India as rebranded – Xiaomi Mi True Wireless Earphones 2. The new wireless phones are updated version of the Mi True Wireless Earphones launched in June last year.
Xiaomi Mi True Wireless Earphones 2 were launched in March for € 80(Rs 10,620) in global markets which competes straight against the Realme Buds Air at around same price segment.
The newly launched Mi True Wireless Earphones 2 resembles the Apple's Airpods in terms of earpiece design.
The new wireless headphones are equipped with 14.2 mm large dynamic drivers and a chip with support for Bluetooth 5.0 which offers outstanding music quality on both iOS & Android devices.. The earphones are specifically designed for a lossless, fast, low latency, and lag-free connection.
Mi True Wireless Earphones 2 Come with a composite diaphragm dynamic driver unit that delivers artfully tuned sound especially for the Indian market.
The earphones are equipped with powerful Neodymium magnets, which ensures brilliant sonic accuracy and a clarity profile that delivers crisp highs and warm lows without any distortion.
The device also supports the LHDC codec, which is an alternative to Qualcomm aptX-HD and is available for all manufacturers of smartphones with Android 10. LHDC has a low latency mode. The signal is transmitted to both earphones separately, and not to the master earphone, as in case of other brands earphones. The codec transmits approximately 3 times more data than the SBC audio codec for an exceptional true to life audio performance.
Xiaomi Mi True Wireless Earphones 2 can work without recharging for 5 hours. When using a complete charging case, battery life can be increased upto 24 hours. The case itself can be charged via a wired USB-C connection or using a wireless charging pad based on the Qi standard. A full charge takes about one hour.
Environmental Noise Cancellation
The headphones do not support active noise canceling, but Xiaomi uses dual microphones to suppress noise during calls which the company calls Environmental Noise Cancellation. To cancel out the ambient noise, the microphone at the bottom detects the direction of your speech and works in sync with the other mic to suppress environmental noise up to 90% to deliver a crystal clear voice call experience.
Using touch control, the user can receive calls and control the volume.
Smart In-Ear Detection
Mi True Wireless Earphones 2 come with inbuilt optical sensors that detect when they are being used. Music playback automatically pauses when you take them off and resumes when you put them back on. This feature is available across Android, iOS and Windows.
Among other functions, there is a deep integration with MIUI, for example, calling Xiao AI assistant, working with voice commands, sending pop-up notifications about connecting headphones to a smartphone.
Stylish Ergonomic Slip-proof Design
With a semi-in-ear design and anti-slip material used in the build, the earphones sit perfectly and securely in your ear, offering a fit so comfortable, you'll forget that you are wearing it.
Optimized for MIUI 11
The earphones can be connected to the smartphone using One-Step pairing. Once the earphones are out of the storage case, an automatic pop-up notifies the user and at a single press of a button the earphones are instantly connected to the smartphone.
The earphone is compatible with popular voice assistants like Google Assistant, Siri and Alexa.
Xiaomi Mi True Wireless Earphones 2 Price in Nepal
Mi True Wireless Earphones 2 price is set at INR. 4,499(NRs 7,200), however for a limited period, the company will be selling the earphones at Rs. 3,999(NRs 6400). The earphones are expected to be launched in Nepali market in the coming months. Please stay tuned for updates.