Miku Electric Bikes Price in Nepal
When we talk about electric automobiles, we immediately picture the sleek, sporty designs that are so prevalent right now. It has become increasingly important for electric vehicle manufacturers to reach out to young people.
In the world of electric motorcycles, Sunra is a well-known brand name in China established in 1999. It is one of the largest electric vehicles manufacturer with over 4.1 million units per year.
Kaliber Auto Pvt. Ltd. the authorized distributor of Miku brand of Electric bikes manufactured by Sunra EV has now been made available in Nepali market. Kaliber Auto also sells Doohan brand of electric scooters in Nepali market including the popular dual front-wheel iTango and iTank  models.
ALSO READ: Doohan Electric Scooters Price in Nepal: All Features and Specs
Initially, the company has launched two models – Miku Max and Miku Super electric bike in Nepal. Let's check out the details, specifications and price below.
MIKU MAX
This is the first generation of an innovative high-speed electric bike that is both elegant and unique. The Miku Max is fit for all kinds of road conditions, thanks to MIKU SUPER's FOC intelligent controller, CBS brake system, and hydraulic dampers.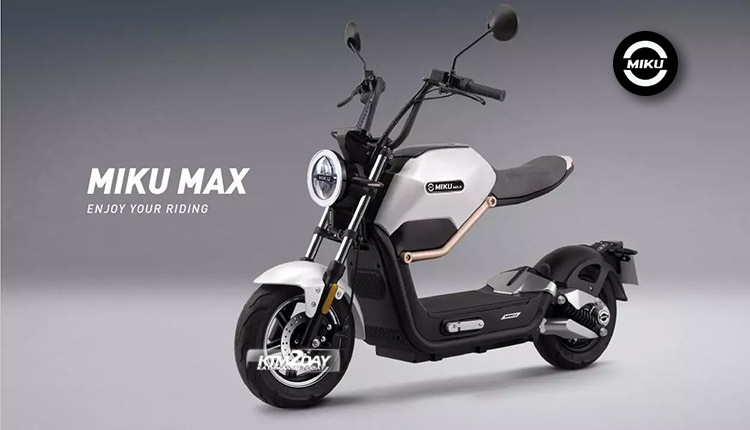 The Miku Max electric bike offers a 60 km range and features an electric motor from Bosch with an output of 800 watts. The battery is detachable and has a capacity of 20 amp hours. The bike can reach a top speed of 45km/h.
The bike features a unique design with "floating" C-shape body frame which can accommodate one large passenger (upto 100 kg) since it's a single seater.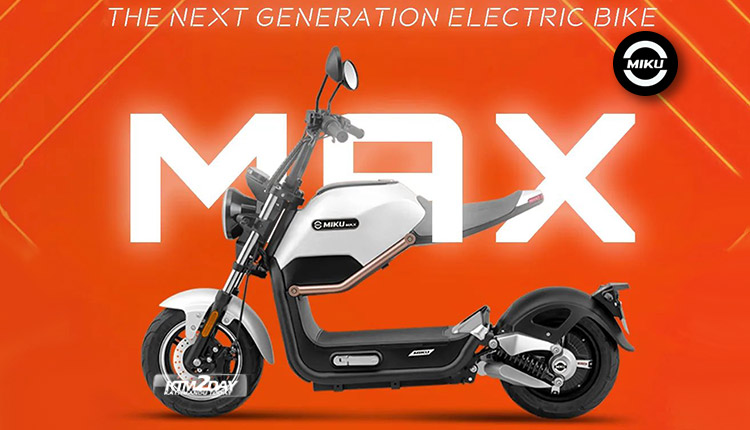 As the seat is suspended in the air, the MIKU MAX has a unique design feature not seen before in two wheelers design. This unique design does not affect the rider ability to balance while on the road.
With a maximum power of 800W in the rear wheel and manufactured and developed by Bosch – the No.1 in electric engines worldwide, this engine achieves a greater efficiency and battery saving, achieving an acceleration of 0 to 45 km/h in just 9.8 seconds.
LED frontal lights provide nearly double the international standard angle of vision, which is fixed at 30 degrees at 12 meters and 24 degrees at 9 meters. This means you can drive at night with complete peace of mind.
Because it only weighs 70 kilograms, this bike can attain a maximum speed of 45 kilometers per hour. Apart from that, it's the top speed at which a moped can legally travel.
A 70-kilogram passenger may travel up to 60 kilometers range on it's lithium battery's 60-volt, 20-amp-hour capacity. It has a charging time of 4-5 hours and a useful life of 800 charging cycles.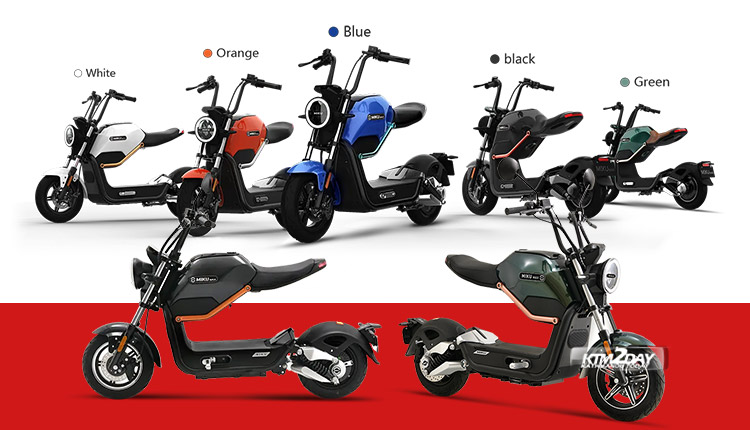 Miku Max is available in a wide range of color options including – White, Orange, Blue, Black and Green.
MIKU MAX Specifications
Engine Type 100% Electric FOC BOSCH Technology Field oriented Control
Power 800W
Max Torque 110 Nm
Range 60Km
Top speed 45km/h
Noise 40db Silent
Acceleration 0-45km/h in 9.8sec
Climb capability 21% 1 person 70kg
Dimension and Weight

Length 1685mm
Height 1065mm
Width 780mm

Max loading 100kg
Wheelbase 1205mm
Tire Size

Front:3.0-10 " Tubeless tire
Rear:3.0-10 " Tubeless tire

Battery weight 9kg
Battery Specs:

Type Portable 60V 20AH Lithium battery
Charging Time 4-5 hours
Voltage / Current 60V 20AH
Charging Cycles 900Cycles
Resistance Temperatures between -15 and 38C

Seating 1 Person
Carrying Capacity 1 bag hook
Brakes Front:Disc , Rear:Disc
Connection1 USB port
Shock Absorber Front: Hydraulic, Rear: Hydraulic
Meter Type Digital
Frame Type Steel
Miku Max Price in Nepal Rs. 2,24,900
---
MIKU SUPER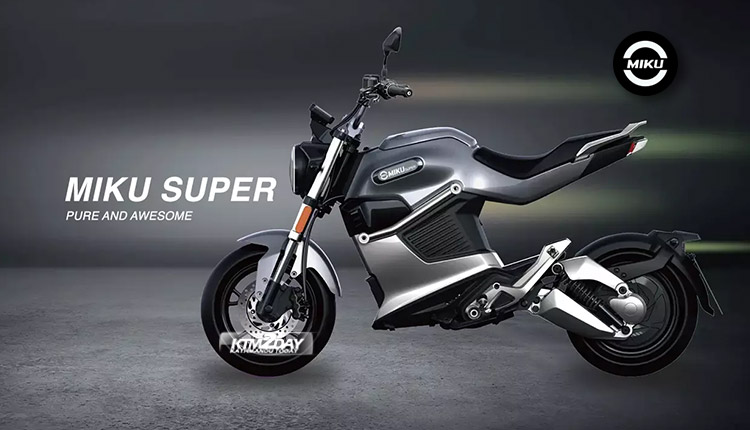 Compared to the Miku Max, the Miku Super is a more robust model in terms of power, performance and features. This bike's personality comes from its unique, eye-catching form and shape. Designed for thrill-seekers and aficionados of the original design, this vehicle is agile and fast. This electric bike is comparable to a 125cc petrol engine bike in terms of power.
An all-electric driving range of up to 105 kilometers is ensured by two replaceable 72V 20Ah lithium-ion batteries. In 4 hours time and anywhere with a 220V outlet, each battery may be fully charged and has a lifespan of 1000 charging cycles. You no longer have to be concerned about the cost of petrol or transportation whether you are on a long or short trip.
Using the Sunra 3000W drive motor, one may attain maximum speeds of up to 80 km/h in just 8.5 seconds. The bike is able to handle a slope of roughly 27 degrees in steep terrain with that amount of of power.
Additional features include an integrated rear wheel and a dual system engine which provides consistent smooth power output and high acceleration of upto 75 kmph and a peak torque of 230 Nm.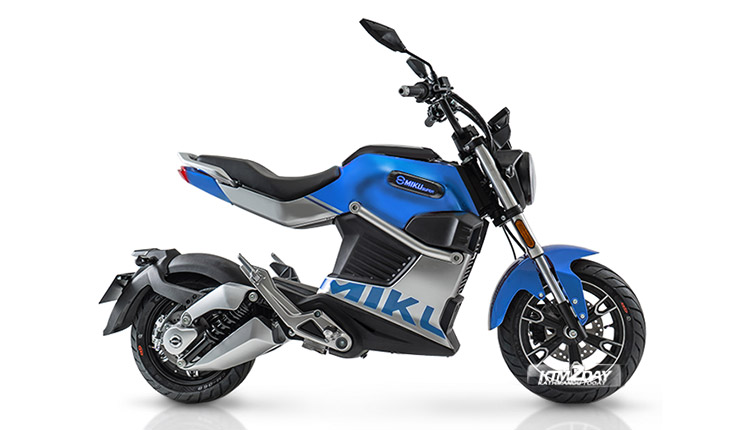 Miku Super, like most modern electric motors, has a minimal number of moving parts. As a result, it requires very little maintenance in the long run. Checking the oil level, rollers, or transmission belt is no longer necessary. All that needs to be serviced on a regular basis in this machine is the bike components such as the brakes, suspension, shock absorbers, tyres, and illumination.
Because Miku Super is a two-seater motorbike, you can bring a passenger along for the ride. It has a maximum load capacity of 185 kg. In addition, Miku Super is also waterproof. As a result, you can drive without being concerned about the weather. Its components are built to endure rain and wind, and each one has been thoroughly tested.
Front and rear disc brakes coupled by a compound braking system(CBS) are found on the 12-inch wheels. It's worth noting that the CBS shortens the braking distance greatly because it distributes the braking power across the front and rear disc brakes.
In addition to a USB connector for charging a phone, Miku Super has a large storage area. An app for Android or iOS can also be used to link this bike to your smartphone or tablet. You will be able to control the alarm, turn the bike on and off, examine the vehicle's condition, and check the tyre pressure using this feature.
The glove box may be opened and closed, and the keys can be customized via Bluetooth using the app. Also worthy of attention are the LED lights found in the Miku Super, which allows for clear vision even at night.
Miku Electric Bikes come with a warranty of 2 years on the electric motor and 2 years on the battery.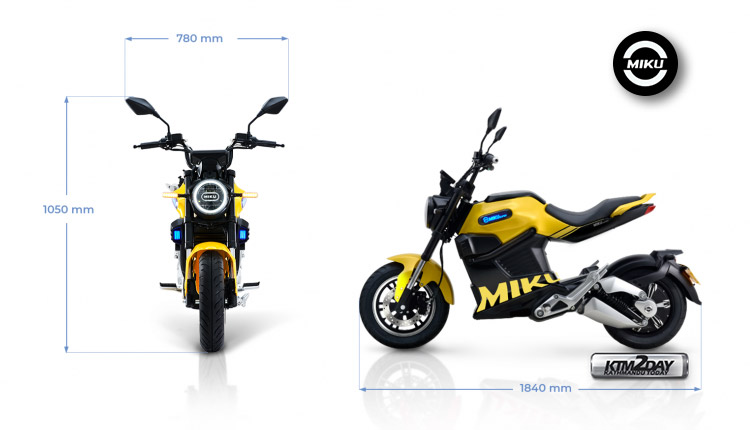 MIKU Super Specifications
Engine Type 100% Electric FOC Sunra motor
Power 3000W
Range 135Km
Equivalent to 125cc petrol engine bike
Top speed 80km/h
Climb capability 27°
Dimension and Weight

Length 1850mm
Height 1040mm
Width 745mm

Max loading 150kg
Tire Size

Front:120/70-12 " Tubeless tire
Rear:120/70-12 " Tubeless tire

Battery Type Portable 2 x 72V 20AH lithium battery
Charging Time 4 hours
Seating 2 Person
Brakes
Meter Type Digital
Frame Type Steel
Shock Absorber

Front: Hydraulic
Rear: Hydraulic
Miku Super Price in Nepal Rs. 3,96,900
---
Miku Electric Bikes Frequently Asked Questions
Where is Miku Electric Bikes manufactured?
Miku Electric Bikes are manufactured by Sunra EV company from China.
Where is Miku Electric Bike Showroom in Nepal ?
Miku has established it's showroom in Narayanchaur Naxal, Kathmandu.
How many models of electric bikes are available from Miku ?
Currently there are two models available – Miku Max and Miku Super.
Kaliber Auto Pvt. Ltd. is the authorized dealer of Miku electric bikes in Nepal. Kaliber Auto also sells Doohan Electric Scooters in Nepal.
What is the price of Miku Electric Bikes in Nepal ?
Miku Electric bikes are available in 2 models initially. The Miku Max price is Rs. 2,25,000 while the more premium Miku Super is priced at Rs. 3,96,000.
Does Miku Electric Bikes come with any warranty?
Yes, Miku Electric Bikes come with a warranty of 2 years on the electric motor and 2 years on the battery.
What is the difference between Miku Max and Miku Super electric bike?
The main difference lies in the motor power and battery. The cheaper Miku Max comes with 800W motor and 60V 20AH Lithium battery while the Miku Super features a powerful 3000W motor along with 2 x 72V 20AH lithium battery. Apart from price and other features the Miku Max has a travel range of 60 km, while the Miku Super offers almost double the range of 135 km.
Is EMI option available while purchasing Miku Electric Bikes in Nepal?
Yes, EMI option is available with 50% cash down payment while purchasing any models of Miku Electric bikes in Nepal.
Is there any exchange offer available while purchasing Miku Electric Bikes in Nepal?
Yes, exchange offer is available while buying Miku Electric Bikes in Nepal.