Moto Watch 100 With 14-Day Battery Life, Circular Display Launched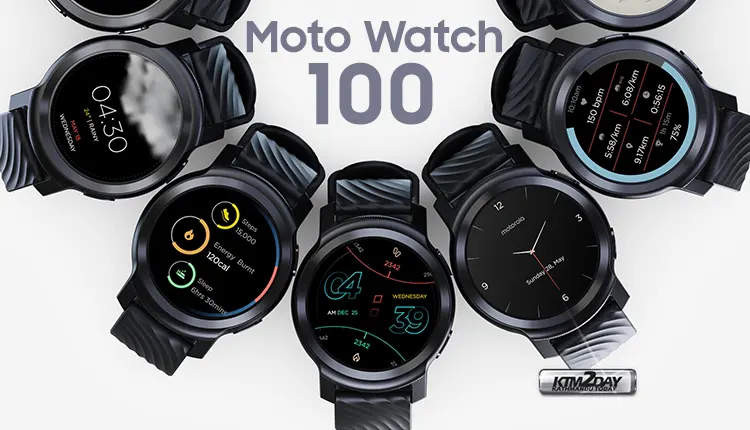 The Moto Watch 100 has been confirmed as a reality, weeks after it was rumored to be in the works. Features like heart rate and blood oxygen (SpO2) monitoring are included in Lenovo-owned Motorola's new circular smartwatch. Additionally, the Moto Watch 100 is the first smartwatch from the company to run on the company's own Moto OS. "dramatically" increase the battery life of a smartwatch, according to the custom operating system. On a single charge, the Moto Watch 100 can last for up to 14 days.
Technical details about the Moto Watch 100
It has a 1.3-inch circular LCD display with 360×360 pixel resolution and a 'Always On' feature on the Moto Watch 100, which runs Moto OS. An accelerometer, gyroscope, heart rate monitor, and a SpO2 sensor are all included in its array of sensors. With the use of these sensors, you can get more accurate data on your fitness progress, such as heart rate, sleep patterns, body mass index (BMI), and oxygen saturation levels in the blood. A 5ATM water-resistant aluminum casing is also included with the Moto Watch 100.
The Moto Watch 100 comes preloaded with 26 different sport modes, including ones for basketball, badminton, indoor cycling, cricket, snowboarding, tennis, and yoga. When paired with a compatible phone, the Moto Watch 100 can also be used to track a user's fitness progress. Bluetooth v5.0 and GPS connectivity are also supported by the smartwatch.
The Moto Watch 100 is compatible with devices running at least Android 5.0 or iOS 10.0 in terms of operating systems. With a quick release lever, the smartwatch's wrist strap can be replaced.
Powered by a 355mAh battery, the Moto Watch 100 is rated to last for up to two weeks on just one charge. Using the included magnetic charging cable, the smartwatch's built-in battery can be fully recharged in 60 minutes. Additionally, it is 42x46x11.9mm and weighs 29 grams.
Moto Watch 100 price in nepal
A $99.99 price tag has been set for the Moto Watch 100 (roughly Rs. 12,000). It is currently listed on Motorola's US website in Glacier Silver and Phantom Black, with pre-orders beginning on December 10th in the US market.
The Moto Watch 100's availability in markets such as Nepal has not yet been announced.