Ncell brings multiple offers to keep communities connected during Lockdown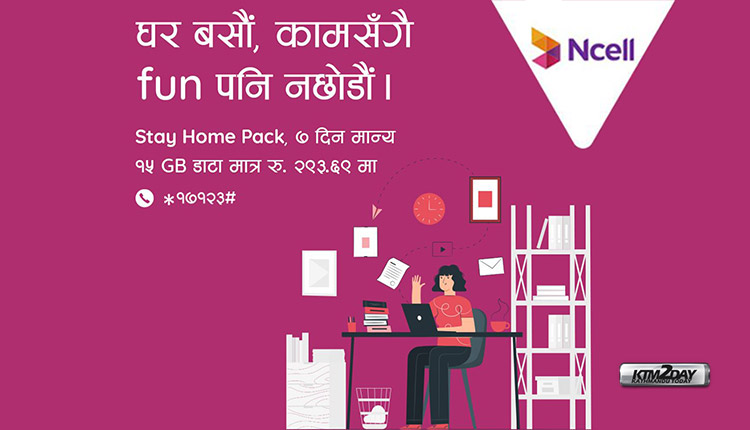 Connectivity is always essential to mobile customers – it's even more critical during a public health crisis that's challenging everyone. The coronavirus (Covid-19) pandemic has sparked a new technology challenge: to be able to work from home. Citizens are relying on communications services to stay connected and updated during this crisis. In fact, as a critical infrastructure provider, Ncell views it as civic duty to step up and keep customers and communities connected.
This is the time when we are required to maintain social and physical distancing as a pre-emptive measure to come together to combat Covid-19. And in a bid to address the need for communications services, Ncell Private Limited has introduced various consumer-friendly offers ranging from the increment in saapati amount, free balance transfer service, 50% bonus balance on recharge to stay at home data pack.
Free Balance Transfer
Ncell has introduced a balance transfer service under which prepaid customers can send and receive balance for free of service charge. They can send balance from their mobile to their friends or family members within the Ncell network. Considering the crisis, the limit of daily transactions of balance transfer has also been increased from the current 3 times to 20 times a day.
Customers can transfer Rs 10 to Rs 500 from his/her main balance to the desired Ncell number. The transferred amount can be utilised for making calls, sending SMS and surfing the internet. To transfer balance, customers need to dial *17122*<type receiver's mobile number>*<type transfer amount>#.
Ncell Saapati
Ncell has also increased the amount of Ncell Saapati. With this, customers can now take saapati of up to Rs 200 based on their past usage behavior. When customers run out of their main balance, they can simply dial *9988# and take saapati as per their need for a service fee of Rs 2 per saapati.
50% Bonus Balance
Similarly, there is an offer that provides 50% bonus balance on every recharge. Customers recharging Rs 50, Rs 100, Rs 200, Rs 300, Rs 500 or Rs 1000 are entitled to get 50% bonus balance which they can uses for Ncell to Ncell voice and SMS service, and use data service. For example, if customers top up Rs 50, they get Rs 25 bonus amount. Similarly, if there is a refill of Rs 500, customers receive Rs 250 bonus balance. Bonus balance is valid till midnight of the same day.
Stay Home Pack – 15 GB pack
This is not all, for those customers who need to work from home or remotely during this unavoidable situation, Ncell also launched a special daily data pack 'Stay Home Pack' that consists of 15 GB data volume. Ncell customers can subscribe to this pack at Rs 230 (Rs 293.69 including applicable taxes) which will be valid for 7 days between mid-night to 6 pm. Of the total 15 GB, 10 GB will be applicable in all networks (2G, 3G, and 4G) and 5 GB will be applicable only in the 4G network.
Customers can dial *17123# and choose Stay home pack from the option. Once the volume in the data pack is consumed, standard pay as you go rate will apply.
All the above-mentioned offers will remain effective for 30 days.