Ncell launches Same 2 Same Dhamaka Offer on New Year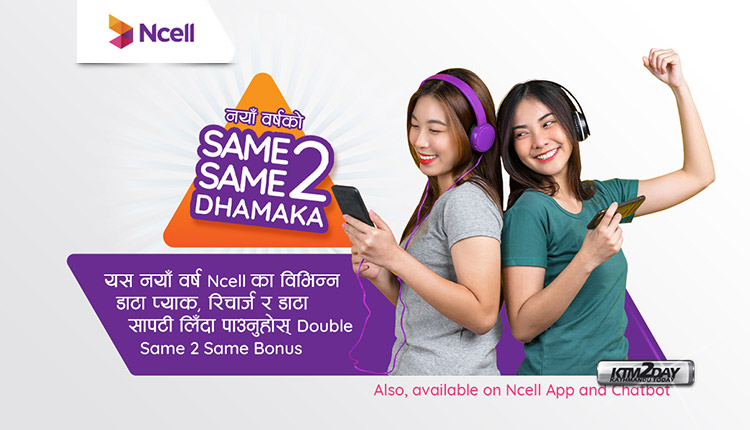 On the occasion of New Year 2078, Ncell customers can now take advantage of double data volume as a bonus on the purchase of data packs and also bonus data volume on every recharge of Rs 50 and higher.
Under the double volume data offer, customers can enjoy double data volume as bonus on purchase of data packs ranging from 30 Day Data Pack to 1 Day Data Pack. As a part of new year offer, if customers buy 10 GB data pack for Rs. 499 having validity of 30 days, customers receive additional 10 GB data as bonus. The bonus data remains valid for 30 days in line with the validity of the main data pack. Likewise, customers upon buying 2GB data pack for Rs. 139 can enjoys 4GB data in total which remains valid for 14 days.
Double data as bonus on data packs
20 GB data volume at just Rs. 499
Additional data bonus on every recharge
Double data as bonus on Ncell Data Saapat
Similarly, if a customer buys 400 MB data for Rs. 42, they can enjoy 800 MB data in total at the same price. Under this attractive scheme, customers buying 150 MB data pack with validity of 1 day for Rs. 18, get additional 150 MB data volume.  For the 1 day data pack, the bonus is applicable for customers who buy the pack from digital application including Ncell App, Website and Chatbot among others. This offer is also valid for data Saapati under which customer upon buying 300 MB data for Rs. 40 enjoys 600 MB data at same cost which remains valid for 3 days.
Making the new year offer even more exciting, the company is also providing data bonus to customers on every recharge of Rs. 50 and more, allowing the customers to enjoy data bonus on recharge. In this attractive offer, if customers top up main balance with Rs. 50 to Rs. 99, they receive bonus data of 50 MB with validity of 1 day. Customers who recharge balance with Rs. 100 to Rs 199 are entitled to get 100 MB bonus data valid for 2 days. For those who top up main balance with Rs. 200 to Rs 299 are eligible to get 200 MB data which has validity of 3 days.
Likewise, customers who recharge balance Rs. 300 to Rs. 499 get 300 MB data with validity of 5 days. And the customers who recharge Rs. 500 to Rs. 999 and Rs. 1000 and above get bonus data of 500 MB (valid for 10 days) and 1000 MB (valid for 15 days) respectively.
On the occasion of new year, Ncell is delighted to bring this new attractive offer to customers, enabling them to benefit from access to double data at more affordable rate. The company believes that the double data volume and bonus data on recharge will help to address the growing communication need of our customers to get connected to their friends and family digitally.
Customers can avail this offer by using the USSD *17123# to buy desired data packs or can also use USSD *17123*78# to buy any data packs and enjoy the double data offer. This offer will remain in place for 15 days i.e. till April 27.