Nepal Gas launches composite cylinders in Nepali market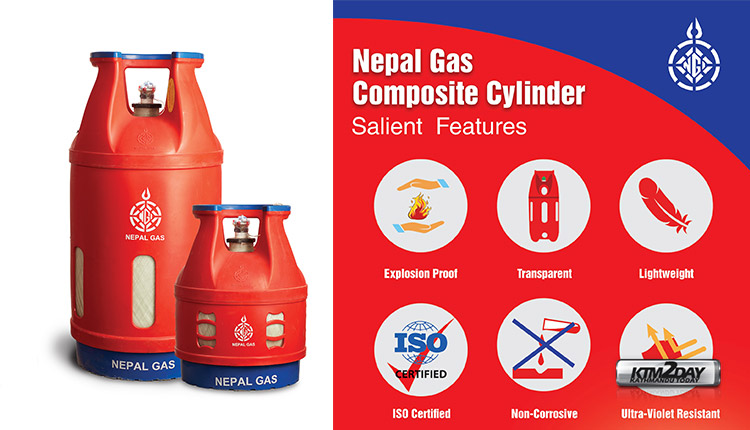 Nepal Gas industries Pvt. Ltd. (NGI) , the first company to import, bottle and marketing of liquefied petroleum gas (LPG) has launched Composite Cylinders in the nepali market.
Trade Commerce and Industry Minister Matrika Yadav inaugurated the sales of composite cylinders amidst a function held on Sunday.
These composite cylinders are explosion proof, light and efficient , comes in a translucent body and is non-corrosive unlike traditional metal cylinders.
According to the company, composite cylinder comes with a translucent body that enable you to accurately check the LPG level against light.The outer & inner casing and gas filament winded bottle is made by adding UV protective additives so as to withstand adverse weather conditions and prevent degradation.These cylinders are Eco-friendly as the composite glass fiber bottle can be crushed and added to the concrete used for building overhang bridges, constructions etc.
Nepal Gas industries Pvt. Ltd. (NGI) was incorporated and established at Balaju Industrial District (BID) Kathmandu in 2026 B.S. covering area of 20 Ropanies of Land. NGI is the company that uses cylinders of ISI standard, which are tested and certified by the Bureau of Standards of India and Nepal standard as prescribed by the Explosive Department of India/Nepal.
Nepal gas has fully advanced bottling system with technology imported and setup from France and it can deliver an accurancy of +/- 50 grams on every gas cylinders which gives accurate weight (14.2 kg net lpg) assured in each cylinder. Nepal gas can give more cooking days then any others gas suppliers.
The company has now started selling composite cylinders from online retailer Merokirana.com in two different sizes . The empty cylinders are available in 14.2 kg and 5 kg .
At a discounted price consumers can avail these cylinders for Rs.6,375 for 14.2 kg cylinder and Rs.2,939 for the smaller portable 5 kg cylinder.
Nepal Gas Composite Gas Cylinder – 5 Kg – Rs 2,939
Nepal Gas Composite Gas Cylinder – 14.2 Kg – Rs 6,375