Nepal Telecom launches Summer Offer 2021 – 2GB data at Rs 55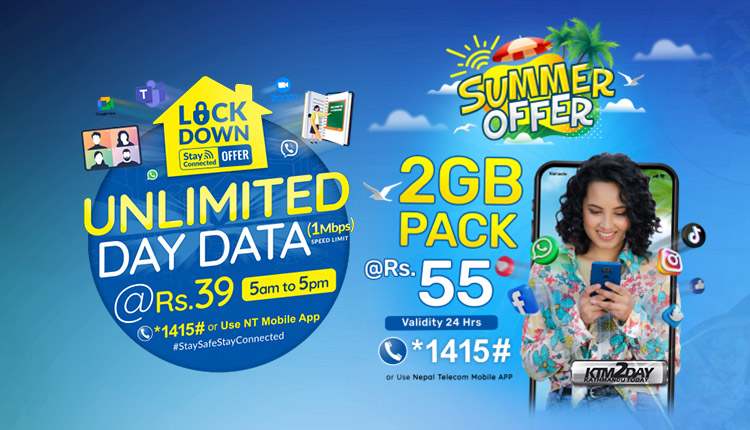 Keeping in mind the growing number of internet users from mobile data, Nepal Telecom has modified it's existing packages with various offers and brought forward a new Summer Offer.
The company has continued most of the pre-existing packages and introduced a new exciting 2 GB of data pack for just Rs 55 per day.
Nepal Telecom has given continuity to the 1 Mbps Day Time Unlimited offer which is available as a lockdown offer at Rs 39 per day from 5 am to 5 pm. Telecom has removed the 'bonus on recharge' offer under the lockdown offer.
Similarly, the telco has kept the 100-minute free voice call facility available for customers who want to use the VoLTE service. The facility must be used within 28 days.
Nepal Telecom has also further refined the Corporate User Group (CUG) offer. The company has already added data volume for prepaid packages of Rs 200 and postpaid packages of Rs 500.
Now, under the Rs 200 prepaid package, the group already has unlimited calls, 100 minutes on-net (can be used on Nepal Telecom's network) and 10 minutes off-net (can also be used on other networks) voice and 50 on-net SMS facilities at any time. 1 GB of usable data is also available.
The CUG 500 postpaid has unlimited calls, 500 minutes on-net and 50 minutes off-net voice and 100 on-net SMS and 30 off-net SMS as well as 5 GB of data that can be used at any time.
Telecom customers can purchase the required package by dialing * 1415 #.