Nepal Telecom brings Dashain offers with bonus on voice and data packs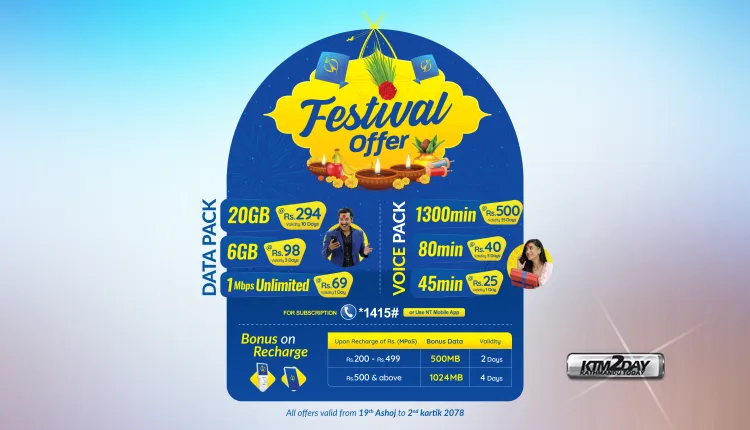 Nepal Telecom has brought special bonus offers on voice and data pack while recharging on the occasion of Dashain festival.
There will be a variety of data and voice bundles available from Nepal Telecom, as well as a special holiday offer with additional bonus credits when recharging your balance.
From tomorrow Ashoj 19  through Kartik 2, the deal will be accessible during Dashain. These deals will be available again from Kartik 16 to Kartik 24 in honor of significant holidays including Tihar, Nhudaya, and Chhath.
The data pack includes 20 GB of data for Rs 294 and 6 GB of data for Rs 98, which can be utilized over the course of 10 days. For Rs 69, customers may get a one-day, unlimited-data plan with a download speed of 1 Mbps.
For the voice service, there will be three options : a 45-minute pack for Rs 25, an 80-minute pack for Rs 40, and a 1,300-minute bundle for Rs 500. The 45-minute pack may be used for one day (24 hours) and the 80-minute pack can be used for three days. There is no time limit on when you may utilize these bundles.
A data pack will be included as a free gift when you recharge through MPOS while the promotion is active.
One can recharge with a amount of Rs 200 to Rs 499 and be eligible for 500 MB data as a bonus gift which can be used within 2 days. And when recharging more than Rs 500, customers can get a 1,024 MB data pack that can be used within 4 days.
To obtain the aforementioned packages, the client should call *1415#. Use the Nepal Telecom mobile app to find out more and make purchases.
The company's website offers access to a wealth of information, as well as the ability to make purchases.