Nepal Telecom brings cheap data and voice packs under "Summer Offer"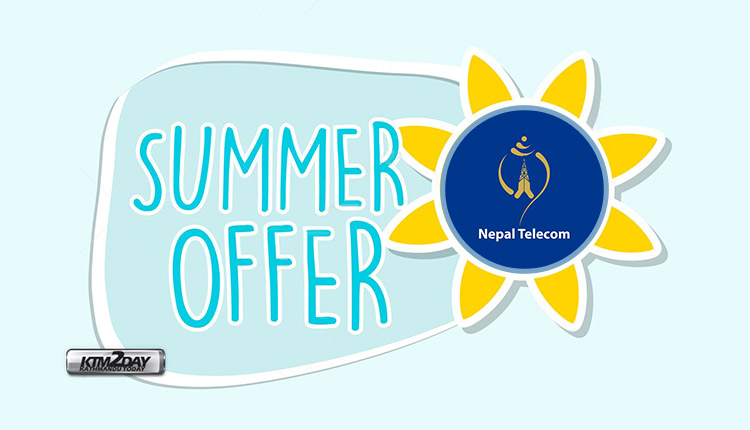 Nepal Telecom has launched an attractive summer offer. The company has modified its pre-existing Spring Offer 2077 and made some changes in the new Summer Offer. The service under the company's summer offer will be available for 90 days starting from today( July 16/ Shrawan 1 ). Some of the already available packs have been retained and some packs have been modified to make them more customer friendly.
Under the offer, the company has provided 1 GB of data for one day at Rs 25 under the YouTube streaming data pack. Similarly, 200 MB of data will be available for one day at Rs 15 under the social media pack. Facebook, Twitter, Instagram and WhatsApp can be run through the social media pack.
The Voice Pack provided at night was earlier available only from 10 pm to 6 am which has now been extended by an hour to 7 am.
Under the Night Time Voice Pack, the 60-minute voice pack is available at Rs.10 while a 200 minutes voice pack is available for 3 nights at Rs.15 and a 350 minute voice pack with validity of 7 nights is offered at Rs. 30. These packs can be used from 10 pm to 7 am.
Under the All Time Data Pack, some modifications have been made to the 3 days, 7 days and 28 days packages. This includes 400 MB for 3 days at Rs. 60, 800 MB for 7 days at Rs. 100, 2.5 GB valid for 28 days at Rs.280. Similarly, a 7 GB pack with a validity of 28 days is being offered at Rs.500 and finally a 16 GB data pack with a validity of 28 days costs Rs.800.
Under the daytime data pack, now 80 MB costs Rs.10 and 250 MB data pack is priced at Rs.18.The pack can be used from 6 am to 6 pm, and will be valid for 24 hours.
Under One Night Unlimited Data, the package can be used in between 11 pm to 6 am and is priced at Rs.20 .
Under Day Voice Pack, a package consisting of 120 minutes can be used from 5am to 5pm at Rs.12 . If the 120 minutes provided in this offer are not used on the subscribed day, it can be used within 24 hours until the next day.
The unlimited call offer, which will be valid from 5 am to 5 pm and available for Rs.15 has been continued.
Under the Large Data Pack, now 30 GB pack costs Rs. 1,600 and will be valid for 60 days. Similarly, a 60 GB pack with a validity of 120 days will be offered for Rs.3000 .
Under the 4G/ LTE offer, a 100 MB of data will be available for 1 day for Rs.15 . Out of 100 MB data pack, 50 MB can be used on all networks(2G/3G) and as an added bonus 50 MB of data can be used only on 4G network.
Additionally, all other packs already available under pre-existing Spring Offer will be continued. In order to receive information about various packages, the customer will have to dial *1415#. One can also get information and purchase services from the company's app 'Nepal Telecom'. You can get 100 MB data free if you download and sign in the Nepal Telecom app.