Nepal Telecom's FTTH internet now available in 47 Districts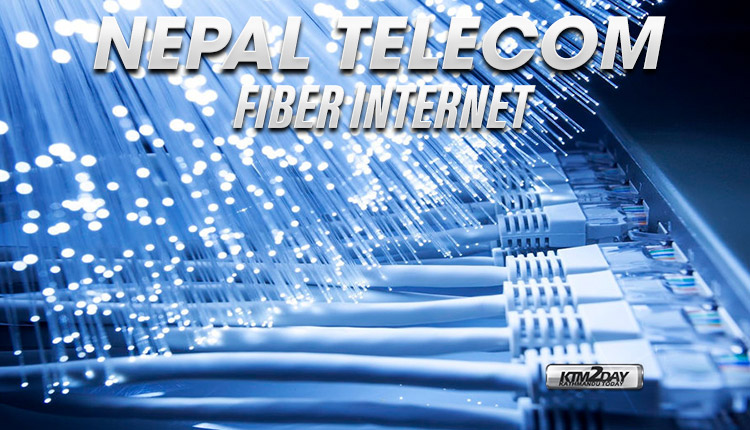 Nepal Telecom has aggressively expanded Fiber to the Home (FTTH) based internet service across the country amid fierce competition in internet expansion in recent times.
As FTTH also relies on the infrastructure of the fifth generation mobile internet (5G), Nepal Telecom has stated that it has increased it's investment to build a robust network.
Nepal Telecom is developing Fiber to the Home (FTTH) technology, replacing the old technology that runs on copper wires. All three services – voice, internet and TV services can be provided using this technology.
Managing Director of Nepal Telecom, Dilli Adhikari, said that it was necessary to invest in the FTTH service of Nepal Telecom. This is an important project as it will also support 5G technology which is coming to Nepal in the near future, the telco said.
"This is an investment for the future of Nepal Telecom," the official said. "We have taken this technology forward with a goal of 20 years, rather than expecting a return in one or two years."
He said that the FTTH service is getting good response from the customers and its expansion to other cities is also accelerating.
The telco has expanded its service to 47 districts by the end of February. Nepal Telecom's FTTH customers have reached 2,03,110 by the end of February.
The Telecommunication Authority of Nepal considers 4.88 users as one subscriber. From this point of view, the number of customers of Nepal Telecom FTTH by the end of Falgun is at 9,91,176.
"We are excited by the response from customers," said the managing director, speaking at an interaction event about FTTH held on Friday.
Since this fiber will last for 20 to 50 years, it can give long-term returns. One fiber cable can serve 64 to 128 subscribers. At present, the internet speed is up to 60 Mbps and can be upgraded to 160 Mbps.
Subscriber Base
Nepal Telecom has already extended FTTH services in 47 districts of Nepal. The telco has stated that it is working fast with a plan to extend it to all 77 districts soon.
Of the 23,110 customers reached by the end of February, the highest number is in Bagmati and the lowest in Karnali.
Of the seven provinces, Bagmati has the highest number of 1,03,433 subscribers. Trailing behind are 26,947 subscribers in Lumbini and 25,023 in Gandaki.
There are 21,270 subscribers in Province 1, 11,349 in Far West, 8,911 in Province 2 and 4,921 in Karnali.
With the development of technology, Nepal Telecom is migrating customers using ADSL technology to FTTH. Shovan Adhikari, spokesperson of the Wireless Directorate, said that customers currently using the  PSTN and ADSL technology are being transferred to FTTH technology.
"We are providing FTTH services to them with special facilities," the official said.
Telecom has also announced various packages to provide FTTH service as per the needs of the customers.
As data, voice and TV services will be bundled in the same technology, the service has been made available in different packages. For example, a package with and without IPTV is also being provided.
There are now more than 175 channels available on NTTV. The service is now available from all the offices in the Kathmandu Valley and plans are afoot to expand to Hetauda, ​​Bharatpur, Pokhara, Butwal and Bhairahawa soon, the official said.