Oppo demonstrates MagVooC wireless charging system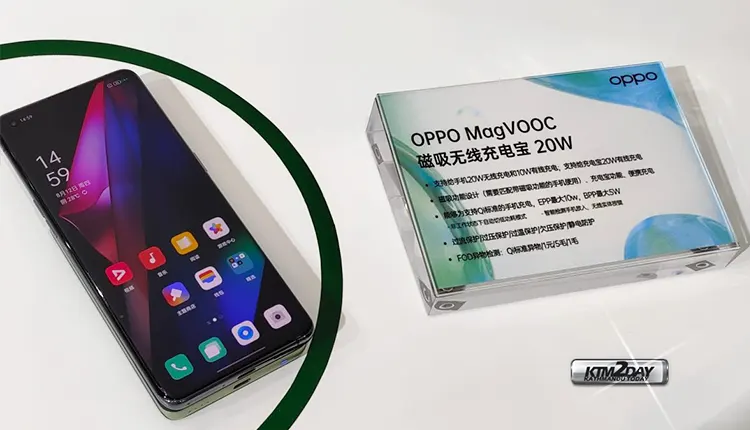 It has taken manufacturers little time to bring one of the best features to the Android world, one of the best features of the iPhone: magnetic charging. Apple introduced MagSafe along with the iPhone 12.
It is a technology that allows you to attach accessories to the back of the smartphone by means of a magnetic system. Realme was the first company to announce MagDart, its alternative to Apple's MagSafe. Now, it's Oppo that has announced MagVooC, its own wireless magnetic charging system.
We have officially entered the era of Mag, this wireless magnetic charging technology that promises to simplify wireless charging and offer new useful accessories.
Oppo MagVooC : WIRELESS MAGNETIC CHARGING
The MagVOOC line of accessories consists of two 20w and 40w wireless chargers, as well as an external battery. All of these accessories can be attached at the back of a smartphone by magnets. At the moment, it is unknown which devices will be compatible, but it is likely that the magnetic system can be used with the Chinese company's future high-end models.
Chargers, having the Qi standard, can be used with other Oppo devices compatible with wireless charging. They will lose, of course, the versatility of the magnetised connector and the maximum power.
One of the most interesting MagVOOC accessories is the external battery, a concept very similar to the MagSafe battery that Apple announced a few weeks ago. This PowerBank has a capacity of 4,500 mAh and can charge with a power of up to 20W. The battery also allows you to supply power to other accessories, such as smartwatches or headphones. It has a USB-C port for wired charging, which decreases its maximum power to 10W.
Another accessory similar to the one that Apple already has is the 20W wireless charger, which has a design and shape very similar to the MagSafe wireless charger. On the other hand, Oppo has also launched a magnetic stand that allows charging compatible devices with a power of up to 40W.
This speed allows you to charge a 4,000 mAh handset in just under an hour. The Stand also offers the possibility of placing the smartphone in different positions. Oppo Smartphones that support wireless charging, but do not have this magnetic system, will be able to charge at a power of 15W.
In parallel, the Chinese manufacturer has shown a preview of its remote charging technology. This charging system, which can supply battery without cables and without the need for the smartphone to be in a base, has a power of about 7W. The company, for the time being, has shown a working prototype, but has not unveiled any commercialization plans.