Qualcomm announces flagship Snapdragon 8 Gen 2 mobile processor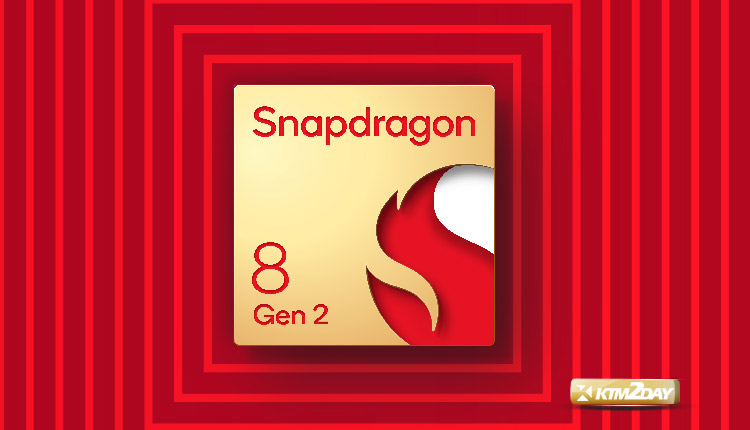 Qualcomm has released its flagship mobile AP, the Snapdragon 8 Gen 2 (SM8550-AB).
The Snapdragon 8 Gen 2 is an attempt to improve upon the shortcomings of the Snapdragon 8 Gen 1, which were exacerbated by Samsung's weaker 4LPX node.
This revision employs the same TSMC N4P node seen in the A16 Bionic from Apple, which is objectively the superior node. By the end of 2022, Qualcomm expects to release the first device using the Snapdragon 8 Gen 2 processor.
With one Cortex-X3, four Cortex-A715 and three Cortex-A510 CPU cores, an Adreno 740 GPU, a brand-new Spectra ISP, support for UFS 4.0 memory, and Wi-Fi 7, the Qualcomm Snapdragon 8 Gen 2 is now official.
By the year's end (2022), devices utilizing the chipset will be on sale to the general public.
There will be one Arm Cortex-X3 core running at 3.2 GHz, four Cortex-A715 cores running at 2.8 GHz, and three Cortex-A510 cores running at 2.0 GHz, as has been hinted at by various Geekbench listings for the Snapdragon 8 Gen 2.
As it is nearly 40% more power-efficient, the additional performance core should give it an edge over the competition, at least in multi-threaded applications.
Snapdragon 8 Gen 2's graphics processing unit (GPU) is reportedly 25% faster than its predecessor's and is compatible with the Unreal Engine 5 Metahumans Framework.
Hence, along with real-time raytracing and HDR10, it should breeze over whatever challenges the developers of next-gen games throw at it. Last but not least, the SoC supports playing back 8K 60 FPS HDR video via the AV1 codec.
There is a new "cognitive 18-bit triple Spectra ISP" in the Snapdragon 8 Gen 2. In addition to supporting a wide range of camera setups, it boasts a whopping 200 megapixel resolution.
A wide variety of frame rates are available for video recording, up to 960 frames per second in 720p. Other features include HDR10+, HDR10, HLG, Dolby Vision, Multi-frame noise reduction, and 10-bit color compatibility.
Qualcomm's new FastConnect 7800 chip enables the Snapdragon 8 Gen 2 to support 802.11be, 802.11ax, 802.11a/b/g/n, and a maximum speed of 5.8 Gbps, making it a Wi-Fi 7-ready SoC like the Dimensity 9200 that was released earlier this week.
Qualcomm's Snapdragon Sound, aptX, aptX Lossless (up to 48kHz lossless music), Bluetooth 5.0 Low Energy (LE) audio, and a low-latency mode of 48 milliseconds are all supported.
In addition to powering a single 4K 60 Hz or 1440p 144 Hz smartphone display, the Snapdragon 8 Gen 2 can also drive a separate 4K 60 Hz external monitor.
Up to 4.3 times as fast as its predecessor, thanks to an upgraded artificial intelligence processing unit called Hexagon.
The X70 5G modem is compatible with both sub-6 GHz and millimeter wave 5G networks, and it supports dual 5G sim operation.
Mobile devices powered by the Snapdragon 8 Gen 2 can be outfitted by original equipment manufacturers with up to 16 GB of 4,200 MT/s RAM and UFS 4.0 storage.
SPECIFICATIONS & FEATURES