Redmi Note 11T 5G set for Nov 30 launch in India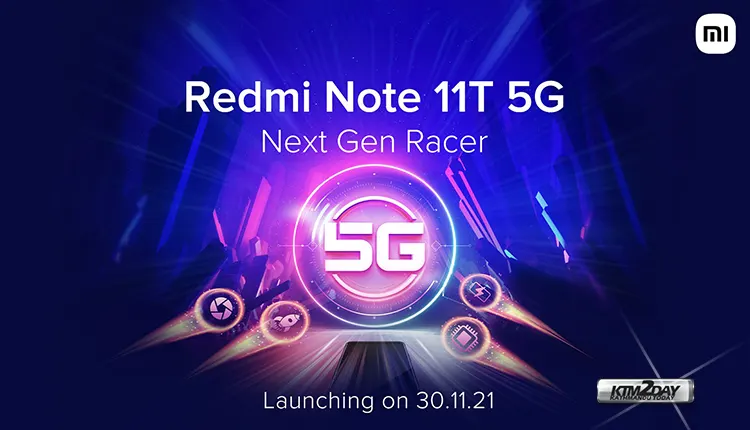 The Redmi Note 11T 5G will be launched in India, according to Redmi on the 30th of November. The smartphone will be a rebadged version of Redmi Note 11 5G launched in China earlier this month.
In anticipation of the upcoming launch, Redmi has set up an micro website highlighting the device's key features. According to which, the phone will be available in Silver and Green. Redmi Note 10T is also getting a fast charging and RAM boost feature.
The Redmi Note 11T 5G is expected to feature the same specifications, the phone may have an IPS LCD display with a 90Hz refresh rate of 6.6 inches. Dimensity 810 processors could be used to power it. Up to 8GB of RAM and 256GB of storage are possible on the Redmi Note 11T 5G.
A 50-megapixel primary camera and a 16-megapixel front-facing camera are possible options for the smartphone. An optional 5000mAh battery with 33W fast charging may be available from Redmi. The Redmi Note 11T 5G's introduction was brief, but we've got more information for you, so let's get started.
China was the first place to get their hands on the Redmi Note 11 series from Xiaomi last month. Redmi Note 11, Redmi Note 11 Pro, and Redmi Note 11 Pro Plus were all included in the lineup. The Redmi Note 11T will be known as Redmi Note 11T in China, while the Redmi Note 11 Pro and Redmi Note 11 Pro+ will be known as Xiaomi 11i and Xiaomi 11i Hypercharge, respectively.
Redmi Note 11T 5G Price in Nepal
The Redmi Note 11T 5G phone could be launched in Nepal anytime after it's formal launch in Indian market.
November 30 has been confirmed as the date for the launch of the Redmi Note 11T 5G in India. While the Redmi Note 11T 5G's official price will be announced at the time of launch. According to a new Moneycontrol report, the base 6GB RAM and 64GB storage model of the Redmi Note 11T 5G could cost as little as INR 16,999(NRs 27,200) when it launches in India.
According to the report, the base model will have 6GB of RAM and 128GB of storage, while the top-end model will have 8GB of RAM and 128GB of storage for INR 19,999(NRs 32,000).