Royole Flexpai 2 unveiled with third-gen Cicada Wing display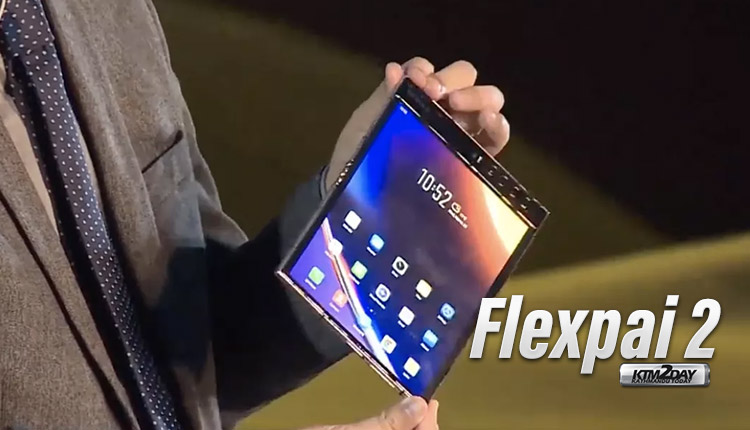 Royole last year launched it's first foldable smartphone device in the world and surprised even big manufacturers like Samsung and Huawei. Although it's first attempt on creating a folding display was not perfect the company launched it's second iteration in the form of Flexpai 2.
The company launched it's new device through a live event online where it presented a significantly improved version of its folding smartphone. The display used on Flexpai 2 features a third-gen Cicada Wing flexible display.
Royole did not disclose all the details about the smartphone, but the company did give a lot of details about the folding display used on this device. According to Royole, compared to previous gen the Flexpai 2 display has a 50% increase in brightness and has completed 200,000 successful bend tests in it's lab. The display has a size of 7.8 inches and an aspect ratio of 4:3 .
The company further stated that the new display panel has a bend radius of 1mm, down from 3mm radius on its predecessor. The Royole FlexPai 2 also has an upgraded performance through the top-of-the-line Qualcomm Snapdragon 865 SoC. In addition to the new foldable smartphone, Royole has partnered with ZTE to expand the usecases of its flexible display technology.
One critical piece of engineering is the proprietary brand new, premium build, wearproof, mechanically robust, Super Seamless & Stepless Hinge (3S™ Hinge). FlexPai 2 will be officially launched in Q2 this year to the consumer market.
Apart from the new display, the Royole FlexPai 2 is powered by the Snapdragon 865 SoC, coupled with LPDDR5 RAM and UFS 3.0 storage. It also has a quad rear camera setup along with a dual LED flash and "true" stereo speakers. Furthermore, the phone comes with a hingeless foldable design.
Detailed specifications of the Royole FlexPai 2 are yet to be announced. The Royole FlexPai 2 price is yet to be revealed. However, it is likely to be in line with the price of the first-generation Royole FlexPai that was set to reach global markets at around $1,600.