Samsung Galaxy Z Fold 2 arrives with bigger screens, 5G and new hinge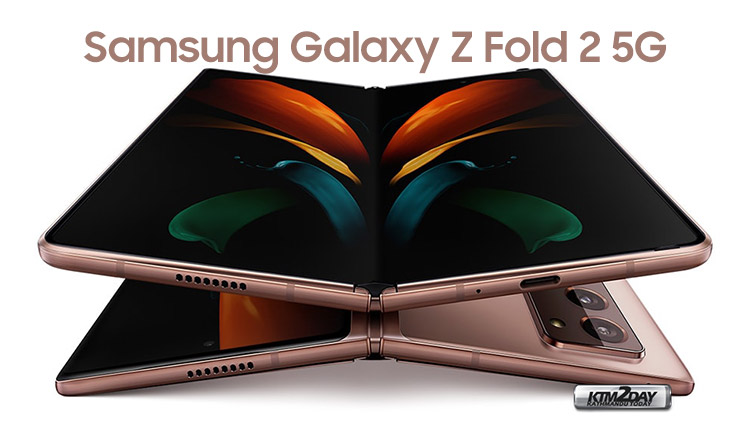 Samsung announced on Tuesday – the Galaxy Z Fold 2 , the second generation mobile phone with large folding  screen of the brand. The product was presented in August with the Galaxy Note 20 line, without much detail. Now, the company confirms that the model will have edge-to-edge panels, new shooting features and a flexible mode that lets you leave your smartphone open at varying angles.
The external screen went from 4.6 inches to 6.2 inches, a size more similar to that of a conventional smartphone. The panel occupies practically the entire front of the Galaxy Z Fold 2, without leaving huge margins at the top and bottom, allowing you to navigate the interface more comfortably even in folded mode.
Inside, we have a 7.6-inch Super AMOLED panel (2208 × 1768 pixels) that in addition to bringing only a small hole for the internal front camera and adopting Ultra Thin Glass (UTG) technology to give a glass feeling to the touch, has variable refresh rate, like the Galaxy Note 20 Ultra.
Depending on the content being displayed, the internal folding screen varies between 11 and 120 Hz. This allows it to show smooth animations and enables playing games with a high frame rate, but also saves battery while you're reading an ebook or using an application that does not need so much fluidity.
Galaxy Z Fold 2 hinge supports Flex mode
The hinge was redesigned and adopted with technologies that worked on the Galaxy Z Flip. Among the 60 components of the mechanism, a small broom inspired by Samsung vacuum cleaners prevents debris from entering the device and cause damage, while allowing the hinge to be invisible when the phone is unfolded. Samsung promises durability of up to 200,000 uses.
A new feature is that the hinge no longer has only the positions "open" and "closed" as in the first Galaxy Fold: it allows one to open the display of the device at angles between 75 and 115 degrees. Flex mode makes it possible to watch a video on YouTube in the upper half while one can also browse the comments below, or else keep the phone on a surface to take a long exposure photo or film yourself without using a tripod.
Speaking of which, the cameras have been updated in both hardware and software. There are dual 10 megapixel selfie cameras (one on the cover and one on the internal screen), in addition to a triple set at the rear: a main with optical image stabilization, an ultrawide and a telephoto lens, all with 12 megapixel resolution.
There is a new feature for automatic framing of footage. The Galaxy Z Fold 2's ultrawide cameras identify up to two people and can smoothly zoom in on the image to focus on subjects. It can move the frame by itself when a person enters the scene, or follow its movements to keep you in the center of the video, for example.
Multitasking and adaptations in apps for folding screens
The experience of using the Galaxy Z Fold 2 with the folded screen is more like that of a tablet: you can access a sidebar at any time to run two or even three applications side by side. It is also possible to run the same application, such as the browser, in different windows simultaneously.
When running more than one application at the same time, you can move content between the two: you can drag a photo from the gallery to the messaging application, or you can copy an Excel chart for a PowerPoint presentation. Samsung explains that the feature works on native Galaxy apps, in addition to the Office suite, OneDrive, Outlook, Gmail, Chrome, Google Maps, WhatsApp and Line.
Features
Inside, Samsung has powered the Galaxy Z Fold 2 with the Qualcomm Snapdragon 865 Plus chipset for the global market. The processor is a 7 nanometer octa-core chipset. There are two batteries that, together, provide 4500 mAh of autonomy, which have fast charging, wireless and Wireless Power Share. The device is coupled with 12 GB of LPDDR5 RAM and 256 or 512 GB of internal storage (UFS 3.1). There is also facial recognition and fingerprint sensor for added security option.
Thanks to improvements in the software, it is possible to take selfies with the rear camera using the external screen, or even use it as a preview or guide to photograph people. The camera configuration includes a triple rear, with main lens, ultrawide and telephoto lens of 12MP each. Selfie cameras (front and inner screen) have 10MP f / 2.2.
Other camera features include – Pro Mode on video, Auto Frame, which takes advantage of Flex Mode to capture videos with tracking of the recorded object, even in motion. There are also improvements in night mode and the single take, feature which was first introduced with the Galaxy S20 line .
Samsung Galaxy Z Fold 2 – specs:
Display:

External : 6.2 inches, Dynamic AMOLED panel, 2260 x 816 pixel resolution, 25: 9 aspect ratio, 60 Hz refresh rate, Ultra Thin Glass (UTG) and Infinity-O
Internal : 7.6 inches, AMOLED Dynamic panel, 2208 x 1768 pixel resolution, 22.5: 18 aspect ratio, 11 to 120 Hz refresh rate and Infinity-O

Processor : Qualcomm Snapdragon 865 Plus octa-core (3.1 GHz Kryo Prime) and Adreno 650 graphics chip
RAM : 12 GB
Storage : 256 GB
Triple rear camera :

Main : 12 megapixel f / 1.8 with optical image stabilization
Ultrawide : 12 megapixel f / 2.2
Telephoto : 12 megapixel f / 2.4

Front camera :

External : 10 megapixel f / 2.2
Internal : 10 megapixel f / 2.2

Battery : 4,500 mAh, 25 W fast charging (wired), wireless charging and reverse charging (Wireless PowerShare)
Operating system : Android 10 with One UI
Connectivity : USB-C, 5G (sub-6, mmWave), 4G, Wi-Fi, Bluetooth, NFC, GPS and UWB
Dimensions :

Closed : 159.2 x 68 x 16.8 mm
Open : 159.2 x 128.2 x 6.9 mm

Weight : 282 g
Colors : Mystic Bronze and Mystic Black
Samsung Galaxy Z Fold 2 Price in Nepal
The Galaxy Z Fold 2 goes on pre-order this Tuesday (Sept 1st) for US $ 2,000 in the United States, South Korea, Canada and other countries. The company has not announced if the model will be marketed in Nepali market.