Samsung launches New Year Offer with cashbacks and discounts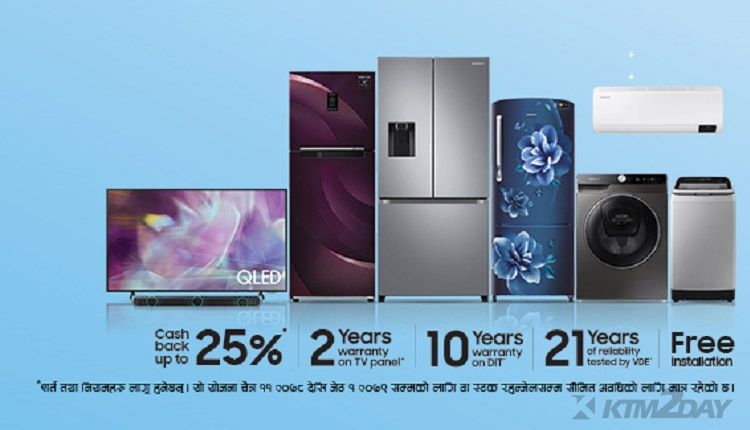 Samsung Nepal has launched 'New Year's Koseli' scheme on the occasion of Nepali New Year 2079 BS.
Under the scheme, customers will be able to avail attractive discounts on purchases of Samsung TVs and digital appliances from Chaitra 11, 2078 to Jestha 1, 2079 or while stocks last.
The scheme is applicable on purchase of Samsung's TVs, refrigerators and washing machines. According to the company cashback can be obtained by purchasing Samsung's Lifestyle TV "The Frame".
Also Check : Samsung Mobiles Price
The company is providing discount of 20 percent on 100% color volume Quantum dot technology QLED TV and more than 20 percent discount on the most popular Crystal 4-K UHD TVs. Similarly, the company is also providing upto 25% discount on Samsung Smart TV with features providing a new exciting experience such as PC Mode and music system.
Samsung's new 579-liter capacity convertible French door refrigerator, 314-liter Curd Maestro and digital inverter double-door refrigerators and single-door refrigerators are available with a cashback offer of up to 22 percent.
Hygiene steam Samsung front load washing machine with 8 kg, 9 kg and 12 kg capacity, AI ecobubble washer dryer available in 8 and 12 kg capacity, Samsung top load digital inverter technology of 7 kg capacity, and diamond drum technology available in 7 kg capacity and Top load washing machines are also available with cash back offer of up to 17 percent under this scheme.
According to the company, the TV has a 1-year warranty and an additional 1-year warranty on the panels. Refrigerators with DIT Compressor and Air Cons have 10 years warranty, also DIT Motor (Washing Machine) has 10 years warranty.
Samsung has also made arrangements for free connection of some of the major devices purchased during the plan period for the convenience of the customers.