Samsung's 34-Inch Odyssey OLED G8 Gaming Monitor Is Now Available for Preorder, and It's Stunning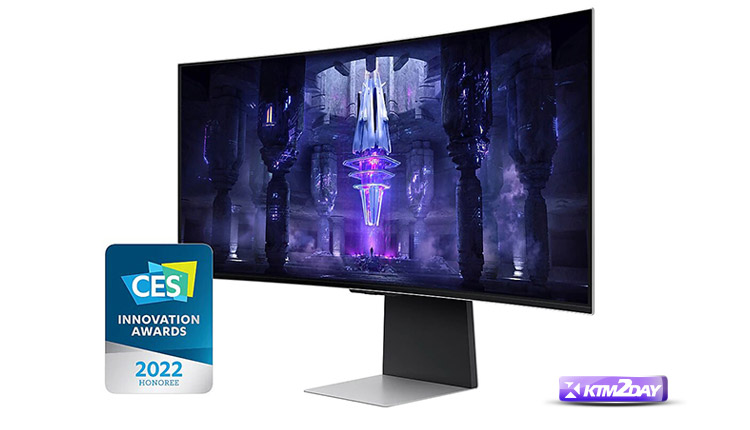 Preorders for Samsung's first Quantum Dot OLED gaming display have begun in a number of countries except the United States.
The new Samsung Odyssey OLED G8 (G85SB) features an extremely thin 34-inch panel with a 21:9 aspect ratio, but it shouldn't be mistaken with the Odyssey Neo G8.
Samsung claims that by combining OLED technology with Quantum Dots, a display can be made extremely bright without the use of dedicated backlighting or a color filter, while still keeping true black.
Also Read : Samsung Mobiles Price in Nepal
With this design, the thinnest part of the screen measures only 3.9mm. With a screen this huge, any means of reducing its mass are very much appreciated.
It has a great 175Hz refresh rate and a resolution of 3440 pixels by 1440 pixels. However, thanks to OLED technology, pixels may transition at lightning speed, making this refresh rate second only to the Neo G8's 240Hz at 3840 x 2160.
In theory, this should eradicate any ghosting effects, as the resulting response time is under 0.1ms.
AMD FreeSync Premium complements this for a rapid response during gameplay. It's basically the same screen as Alienware's 34-inch curved gaming display, except with a higher refresh rate.
For enhanced immersion in games and to make the most of the screen's expansive size, the display employs an 1800R curvature.
Depending on the user's chosen viewing distance, we think 1800R is approximately right for a display of this size. The display's stand can be adjusted to a different height, and it can be tilted, but it can't be rotated.
The Odyssey OLED G8 can function as a standalone display, so there's no need to connect a computer, game system, or media player to enjoy it.
Samsung's Smart Hub is built in and provides access to various online video streaming services.
By combining Gaming Hub with other cloud gaming services, players have access to Xbox, NVIDIA GeForce NOW, Amazon Luna, and the doomed Google Stadia until its service is permanently shut down.
However, speed isn't Odyssey OLED G8's only selling point. Its color reproduction is likewise top-notch, covering 99.3 percent of the dynamic range image color space (DCI-P3) and providing 100 percent color volume for HDR material.
It's also certified as having a 0.0005 cd/m3 black level(True Black), allowing for a much higher contrast-to-light ratio than standard displays.
You should use it with a powerful gaming computer for the optimal experience. Aside from USB-C, the Odyssey OLED G8 also has micro-HDMI 2.1 and mini-DisplayPort 1.4 ports. DisplayPort 2.0/2.1 is a nice-to-have, but it is not required for this monitor's functionality.
You may listen to music or your favorite show without needing to use a headset thanks to the 5W stereo speakers included within the monitor.
Preorders for the £1,299.00 (USD$1,590.00) Odyssey OLED G8 can be placed now on the Samsung UK website, among other locales. However, we anticipate seeing it on the US website within the next few days or weeks.