Saurya Airlines new Bombardier CRJ aircraft lands in Kathmandu airport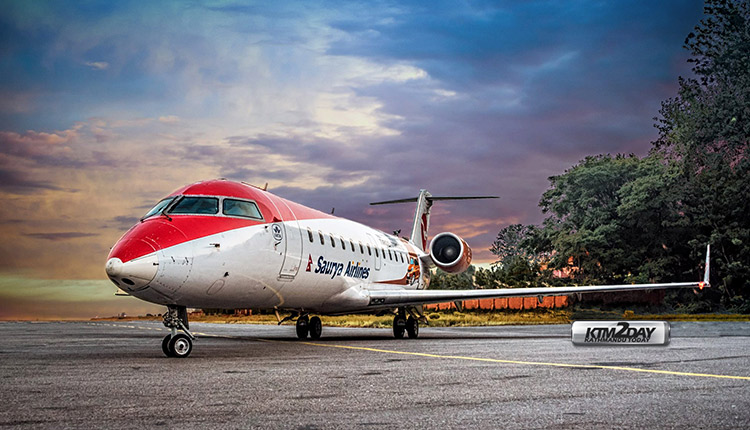 Saurya Airlines, which started operating in the commercial airline industry five years ago has added another CRJ aircraft of Bombardier Company into it's fleet. The CRJ-200 aircraft with 50-seat capacity of the company has arrived in Kathmandu airport on Monday.
The company, which has been operating two CRJ aircrafts with a capacity of 50 seats before, will have three aircraft now operating under it's fleet. Gopal Bhattarai, managing director of the company, said that the new ship was brought on Monday as per company's previous plan for expansion. He informed that the company is going to procure three more 72-seat ATR-72 aircraft to widen it's expansion further.
"We have added aircrafts for the purpose of expanding the company's flight capacity. "Once the Covid-19 infection is under control, we will fly by this plane," said Bhattarai.
He said the company bought the aircraft last year on the recommendation of Bombardier. "We have been preparing to bring this aircraft since last year. The aircraft was brought from Bombardier's service center in Slovenia, 'he said. According to him, the company has purchased the ship for around Rs 500 million.
He said that one of the two CRJ engines had been sent abroad for repair. He said that there are plans to fly to five destinations including Biratnagar, Nepalgunj, Dhangadhi, Bhadrapur and Bhairahawa.
The company plans to fly to various tourist destinations including Pokhara and Bhairahawa in two jet engines after the ATR is brought into operation. According to him, the company plans to fly to destinations including Dhangadhi, Nepalgunj, Simara and Bharatpur through ATR in the near future.
According to the Department of Aviation Safety under the Civil Aviation Authority of Nepal, the customs, registration and other work of the aircraft that landed on Monday is still pending. The department has stated that the registration number of the aircraft will be added to the Air Operator's Certificate (AOC) of the company on the basis of a detailed study of the condition of the aircraft.