Solar Panel Price In Nepal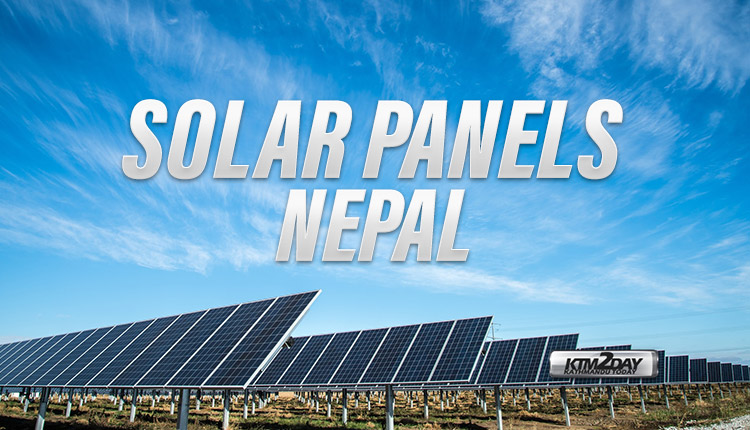 Solar panels cost – How to buy solar panels?
Solar panels can cut your electricity bills by as much as half. Here, we look at the cost of solar panels and the options available.
"Solar Loan" is available at 2.25% per annum through banks like NMB Bank,Nepal Investment Bank and Civil Bank.
S.N.
Package
Description
Parts Included
Price NRs.
1
20Wp Solar Power System
2W DC LED - 4 nos. for 4 hrs.
20Wp Solar Panel
20Ah Exide Battery
2W DC LED -4 nos.
13,540
2
40Wp Solar Power System
4W DC LED - 4 nos. for 4 hrs.
40Wp Solar Panel
40Ah Exide Battery
4W DC LED -4 nos.
18,404
3
75Wp Solar Power System
Laptop or LED TV-2hrs.
Lights - 10W X5nos. for 4 hrs.
75Wp Solar Panel
75Ah Battery
325VA Inverter
35,200
4
100Wp Solar Power System
LED TV / LCD Computer - 2 hr
Laptop - 2 hr
Lights - 10W X5nos. for 4 hrs.
100Wp Solar Panel
100Ah Battery
675VA Inverter
45,790
5
150Wp Solar Power System
LED TV / Computer - 2 hr
Laptop - 2 hr
Lights - 10W X10nos. for 4 hrs.
150Wp Solar Panel
150Ah Battery
850VA Hybrid Inverter with prioritizer
63,200
6
210Wp Solar Power System
TV or Computer -2 nos for 3 hrs.
Lights - 10W X10nos. for 4 hrs.
210Wp Solar Panel
100Ah Battery - 2 nos.
1400VA Hybrid Inverter with prioritizer
88,000
7
300Wp Solar Power System
TV or Computer -2 nos for 3 hrs.
Laptop - 2 hr
Normal Printer or 0.5 Hp water pump - 1 hr
Lights - 10W X10nos. - 4 hrs.

150Wp Solar Panel - 2 nos.
150Ah Battery- 2 nos.
1400VA Hybrid Inverter with prioritizer
1,15,000
8
600Wp Solar Power System
Rice Cooker 1000 W - 1hr.
Induction cooker 1200 W - 1 hr.
Water Pump 350 W - 30 mins.
Lights - 10W X10nos.- 5 hrs.
150Wp Solar Panel - 4 nos.
150Ah Battery- 4 nos.
3.5 KVA Inverter
2,55,350
9
840Wp Solar Power System
Rice Cooker 1000 W - 1hr.
Induction cooker 1200 W - 1.5 hr.
LED TV 110W -3 hrs.
Water Pump 350 W - 30 mins.
Lights - 10W X10nos.- 5 hrs.
210Wp Solar Panel - 4 nos.
200Ah Battery- 4 nos.
3.5 KVA Inverter
3,09,900
10
1200Wp Solar Power System
Rice Cooker 1000 W - 1hr.
Induction cooker 1800 W - 1 hr.
LED TV 110W -3 hrs.
LED Computer 150W - 3 hr
Water Pump 750 W - 1 hr
Lights - 10W X10nos.- 5 hrs.
150Wp Solar Panel - 8 nos.
150Ah Battery- 8 nos.
5 KVA Inverter
4,64,340
11
1680Wp Solar Power System
Rice Cooker 1000 W - 1.5 hrs.
Induction cooker 1800 W - 1.5 hrs
LED TV 110W -4 hrs.
LED Computer 150W - 4 hrs.
Water Pump 750 W - 1 hr
Lights - 10W X10nos.- 6 hrs.
210Wp Solar Panel - 8 nos.
200Ah Battery- 8 nos.
5 KVA Inverter
5,77,720
SYSTEMS WITH OUTBACK INVERTER
12
600Wp Solar Power System
Rice Cooker 1000 W - 1 hr.
Induction cooker 1200 W - 1 hr.
Water Pump 350 W - 30 min
Lights - 10W X10nos.- 5 hrs.
150Wp Solar Panel - 4 nos.
150Ah Battery- 4 nos.
3 KVA Outback Inverter
4,52,520
13
840Wp Solar Power System
Rice Cooker 1000 W - 1 hr.
Induction cooker 1200 W - 1.5 hrs
LED TV 110W -3 hrs.
Water Pump 350 W - 30 min
Lights - 10W X10nos.- 5 hrs.
210Wp Solar Panel - 4 nos.
200Ah Battery- 4 nos.
3 KVA Outback Inverter
5,07,070
14
1200Wp Solar Power System
Rice Cooker 1000 W - 1 hr.
Induction cooker 1800 W - 1 hrs
LED TV 110W -3 hrs.
LED Computer 150W - 3 hrs.
Water Pump 750 W - 1 hr
Lights - 10W X10nos.- 5 hrs.
150Wp Solar Panel - 8 nos.
150Ah Battery- 8 nos.
7 KVA Outback Inverter
9,82,740
15
1680Wp Solar Power System
Rice Cooker 1000 W - 1.5 hrs.
Induction cooker 1800 W - 1.5 hrs
LED TV 110W -4 hrs.
LED Computer 150W - 4 hrs.
Water Pump 750 W - 1 hr
Lights - 10W X10nos.- 6 hrs.
210Wp Solar Panel - 8 nos.
200Ah Battery- 8 nos.
7 KVA Outback Inverter
10,96,120