SsangYong Musso Pickup Truck Debuts in Nepali market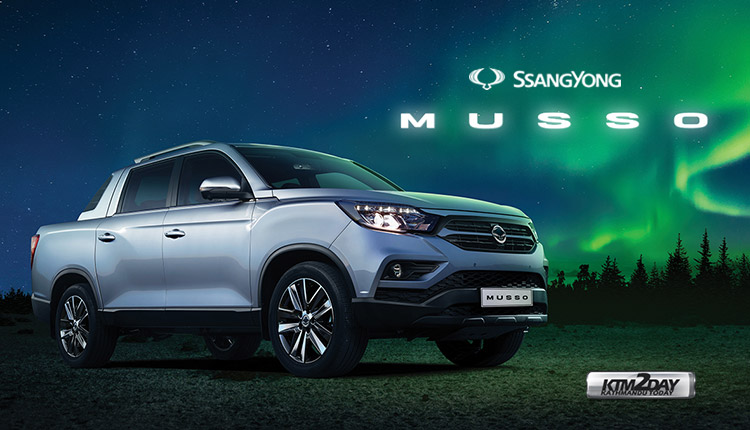 SsangYong has unveiled a new pickup truck for the Nepali market at the NADA Auto Show 2019.
Musso means rhinoceros in Korean, and you can see why that name was chosen – the truck has a rugged and muscular appearance, and impressive off-road capabilities, which is expected coming from the only dedicated SUV manufacturer from the world's fastest emerging market. Despite the modern, and admittedly impressive, looks, underneath the Musso is old school. Like the manufacturer's flagship Rexton on which it is based, the Musso is built using a simple body on frame technique.
Built on the same architecture as the new Rexton which has already been awarded '4×4 of the Year 2018' by 4×4 magazine – Musso shares its body-on-frame construction to give an extremely strong vehicle that delivers excellent off-road driving performance and safety from its quad-frame and four-wheel-drive system.
Designed to carry passengers in comfort and transport loads securely, the SUV-based Musso combines a five-seat crew-cab body style with a workman-like load deck. It also carries a payload of over 1-tonne and tows trailers of up to 3.5 tonnes concurrently to give the highest total load capacity in the segment. This combination of utility pick-up and SUV means Musso offers the perfect blend of functionality, practicality, performance and comfort to the driver and family or workmates.
Musso is powered by the same e-XDi220 engine found in the Rexton, and delivers a maximum power of 181ps at 4,000 rpm and a maximum torque of 400Nm at 1,600 to 2,600 rpm. It is available with either a 6-speed manual or an Aisin 6-speed automatic with its success proven by SsangYong and several other automotive brands.
Inside, Musso is exceptionally well equipped compared with other pick-ups, and as well as offering excellent shoulder and leg room front and rear, Nappa leather seats can be found on the top of the range model for added luxury and comfort. DAB radio and Bluetooth connectivity feature across the range, while all but the entry level model feature a state-of-the-art infotainment system that includes an 8-inch screen, Apple CarPlay, Android Auto and phone mirroring, or 9.2-inch screen with TomTom navigation on top line models.
The price of SsangYong Musso starts at nepali Rs 73.99 Lakhs in the Nepali market.