Vivo TWS 3 Pro Hi-Fi and Vivo TWS 3 launched with lossless audio support, 49 dB ANC and more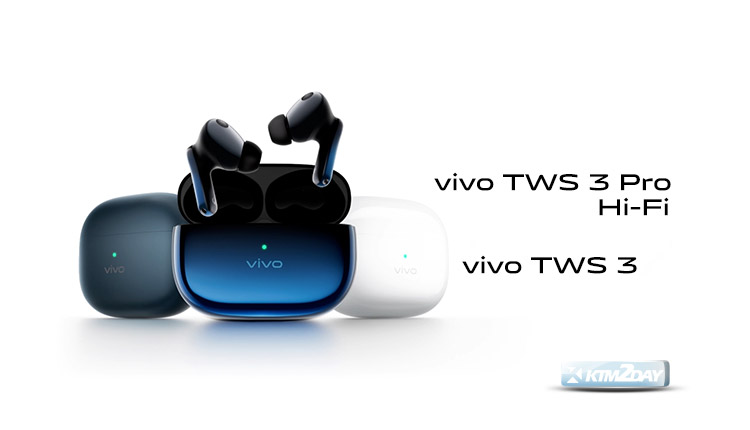 Besides launching the X90 series, vivo has also introduced the TWS 3 series of headphones, including the TWS 3 Pro genuine Hi-Fi wireless headphones and the TWS 3.
Vivo has announced a number of new headphones, including the TWS 3 series, the TWS 3 Pro genuine Hi-Fi wireless headphones, and the TWS 3 replaces the TWS 2 series launched earlier.
The former is the world's first and presently the only true wireless headset that fulfills the vivo Hi-Fi standard; it boasts features like lossless audio transmission, ultra-low distortion decoding, and an ultra-wideband sound unit.
Vivo TWS 3 Series Features and Specs
When it comes to sound quality, the vivo TWS 3 series features an ultra-wideband unit that was developed in-house.
This unit allows for a frequency response that's two times that of a standard unit, a low-frequency range that extends down to 5Hz, and a high-frequency detection range that reaches 40kHz.
In the vivo TWS 3 series, a newly developed 3-nano composite diaphragm enhances the already powerful bass, pinpoint midrange, and crystal-clear treble.
A more complex horn magnetic circuit system design in the 12.2mm larger unit allows for a wider amplitude range and more power.
The vivo TWS 3 Pro also allows for 360° surround space audio and real-time head tracking, which creates a more personal listening experience by adjusting the sound's location around the user's head.
Deep-Live 3D panoramic audio is supported on the vivo TWS 3, and it is a professional spatial sound field audio engine developed by Golden Ear Acoustics Lab.
This engine is able to restore ordinary left and right stereo and multi-channel sound sources to match the original scene of 3D panoramic hearing, giving listeners the sensation of being immersed in the music.
When it comes to connectivity, the vivo TWS 3 is compatible with Bluetooth 5.3 and the latest LE Audio Bluetooth audio technology, universal LC3 audio coding.
This not only ensures high-quality wireless transmission during gaming, but also has a full-link delay as low as 55ms, which allows for true audio and video synchronization and aids users in reaching the final circle.
Since the noise reduction depth of TWS 3 Pro is a maximum of 49dB, the noise reduction bandwidth range reaches 4000Hz, and the comprehensive noise reduction capacity is raised by a factor of 2, hence more noise is efficiently eliminated.
Vivo TWS 3 Series Price and Availability
The vivo TWS 3 Pro real Hi-Fi wireless headphones can be purchased for 999 yuan (about US$ 140). The vivo TW3 basic version may be purchased for 499 yuan (about US$ 70). So far, there has been no word of their arrival in global markets or outside China.