Volkswagen Cars Price in Nepal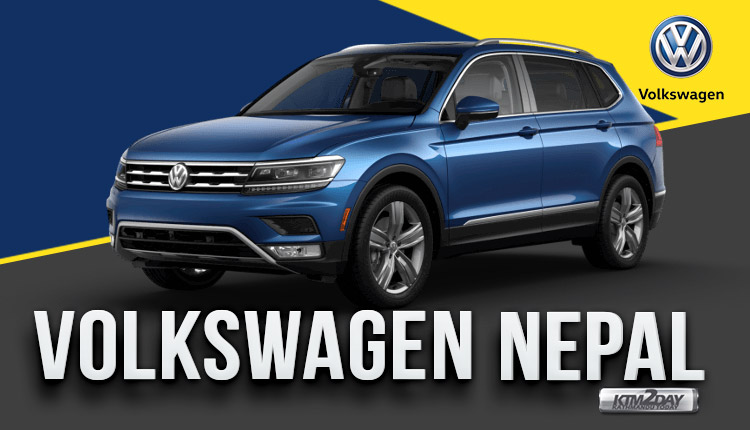 Volkswagen shortened to VW is a German automaker founded on 28 May 1937 by the German Labour Front, and headquartered in Wolfsburg. It is the flagship marque of the Volkswagen Group, the largest automaker by worldwide sales in 2016 and 2017. The group's main market is in China, which delivers 40% of its sales and profits.
Volkswagen translates to "folk's wagon" in German, meaning "people's car". The company's current international advertising slogan is just "Volkswagen", referencing the name's meaning.
Pooja International Pvt. Ltd is the sole authorized dealer of Volkswagen Automobiles in Nepali market and is located at Panipokhari, Kathmandu. Contact – 01 4006605   /   01 4006606
Volkswagen Cars Price in Nepal
Volkswagen Cars Price in Nepal 2023
Image
Specs
Price Rs.
Volkswagen Taigun
Comfortline – MT
50,90,000
Volkswagen Taigun
Highline – AT
63,90,000
Volkswagen Taigun
Topline – MT
69,90,000
Polo TL 1.0 Petrol
999cc , Manual
2 WD , Petrol Engine
Mileage - 17 kmpl
3240000
Polo CL 1.0 Petrol
999 cc, Manual
2 WD , Petrol Engine
Mileage - 19 kmpl
3790000
Polo HL 1.0 Petrol
999 cc, Manual
2 WD , Petrol Engine
Mileage - 17 kmpl
4340000
Polo HL Plus 1.6
1198 cc, Manual
2 WD , Petrol Engine
Mileage - 22 kmpl
4290000
Polo TL Plus 1.0
1598 cc, Manual
2 WD , Petrol Engine
Mileage - 17 kmpl
4640000
Polo GT TSI 1.2 Petrol
1198 cc, Automatic
2 WD , Petrol Engine
Mileage - 17 kmpl
47,45,000
Jetta 1.6L
1598 cc, Manual
2 WD , PetrolEngine
Mileage - 19 kmpl
79,00,000
Vento 1.6 Trendline
1598 cc, Manual
2 WD , Petrol Engine
Mileage - 15 kmpl
4400000
Vento 1.6 Comfortline
1598 cc, Manual
2 WD , Petrol Engine
Mileage - 15 kmpl
5240000
Vento 1.6 Highline
1598 cc, Manual
2 WD , Petrol Engine
Mileage - 16 kmpl
47,45,000
Vento 1.6 Highline+
1598 cc, Manual
2 WD , Petrol Engine
Mileage - 19 kmpl
5640000
Vento 1.5 Highline Diesel
1498 cc, Automatic
2 WD , Diesel Engine
Mileage - 19 kmpl
51,45,000
Tiguan 1.4L Trendline
1390 cc, Automatic
2 WD , Petrol Engine
Mileage - 22 kmpl

1.11,00,000
Tiguan 2.0L Comfortline
1984 cc,Automatic
4 WD , Petrol Engine
Mileage - 16 kmpl
1,40,00,000
Tiguan 2.0L Highline
1984 cc, Automatic
4 WD , Petrol Engine
Mileage - 16 kmpl

1,58,00,000
Tiguan 2.0L Comfortline
1968 cc, Automatic
4 WD , DieselEngine
Mileage - 16 kmpl


1,44,00,000


Amarok 2.0 Startline
Body Type : Pick-up truck
1968 cc , AWD,Manual
140 bhp,340 Nm
6 Gears

82,00,000
Amarok 2.0 Trendline
Body Type : Pick-up truck
1968 cc , AWD,Manual
140 bhp,340 Nm
6 Gears
88,00,000
Amarok 2.0 Startline
Body Type : Pick-up truck
Leather Seats
1968 cc , AWD,Manual
140 bhp,340 Nm
6 Gears
92,00,000

Discontinued Models

Scirocco [Full Option]
1390cc , Automatic
2WD , Petrol Engine
Mileage - 16 kmpl

82,50,000
Passat 1.8 TSI Fully Loaded
1798 cc, Automatic
2 WD , Petrol Engine
Mileage - 13.6 kmpl
89,00,000
Passat Fully Loaded 2.0 TDI
1968 cc, Automatic
2 WD , Diesel Engine
Mileage - 14 kmpl

95,00,000
Touareg 3.0L Fully Loaded
2967 cc, Automatic
4 WD , Diesel Engine
Mileage - 14 kmpl
1,64,00,000
Touareg 3.0L Exclusive
2967 cc, Automatic
4 WD , Diesel Engine
Mileage - 13 kmpl
1,84,00,000
Volkswagen Cars Price in Nepal 2023 - Updated on January 2023