Windows 11 running on an Intel Pentium 4!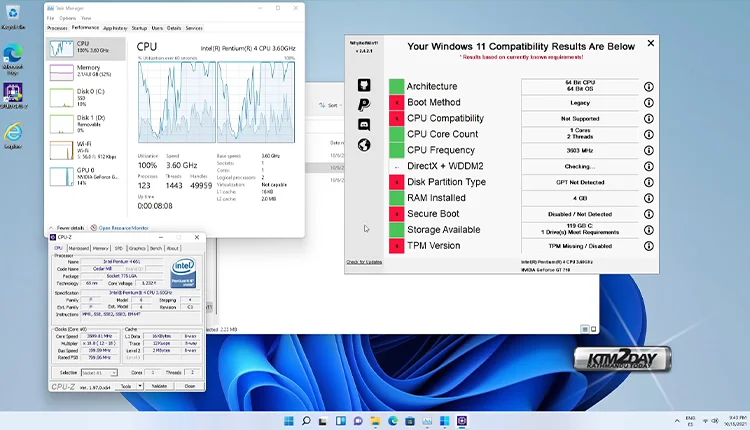 Having checked how easy it is to install Windows 11 on unsustained PCs,many users on the Web have decided to do their own tests under very strange settings. One that went viral almost immediately is that of Twitter user "Carlos_SM1995", who discovered that the Intel Pentium 4 661 of the year 2006 appears as "approved" by the official Microsoft tool. Of course, the story doesn't end there, and we already have a video with Windows 11 running on that hardware…
The Pentium 4 processor family was not the happiest development for Intel, but there is still an impressive number of chips out there, and if you want to experiment with retro hardware without spending too much, they are probably your best option. Some users have done some pretty crazy things with a Pentium 4, and one of the most recent involves Microsoft's latest operating system Windows 11.
Yes, Microsoft explained ridiculous technical requirements for Windows 11, although in practice they have proven to be more optional than anything else. In fact, all that is needed to bypass TPM 2.0 and Secure Boot is create an image with the new Rufus, or apply a couple of registry tweaks during its installation. But what is the relationship between Windows 11 and a Pentium 4? According to the official compatibility tool, that family of processors is perfectly compatible …
Windows 11 running on a Pentium 4 from 2006
---
Twitter user "Carlos_SM1995" verified that the tool correctly reports the absence of both TPM and Secure Boot, but the processor gets a green check. It's about a Intel Pentium 4 661, the older brother of the 65 nanometer Cedar Mill, with 3.6 GHz frequency and also has support for Hyper-Threading. The Microsoft Tool don't know what to do exactly with this chip as it indicates the presence of a single physical core (which should be an automatic fail), but the OS approves it anyway.
Why are you making this mistake? Apparently, none of the Intel processors belonging to the "15 family" were included in the list of unsupported hardware. Maybe Microsoft thought they were too old to bother, but there will always be someone willing to do weird experiments combining old hardware and modern operating systems. In the past we have seen Windows XP on a Pentium Overdrive set to 8 MHz, and a current Linux kernel on a 486.
I honestly hoped that Windows 11 on a Pentium 4 from 2006 had the same performance of a PowerPoint presentation, but the video posted by Carlos_SM1995 shows that it works … fairly good?
Yes, almost everything takes the processor to 100 percent and I do not want to imagine what it must be installing updates, however, I thought it would be even worse.
Source: Carlos SM Computers on YouTube