Worldlink announces Happy New Year Offer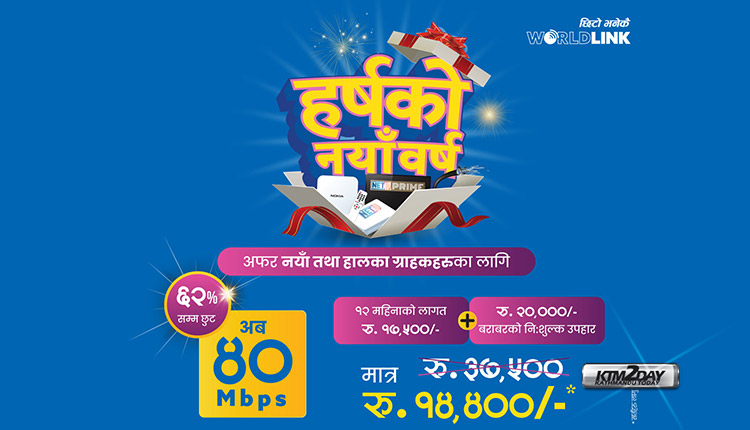 Internet service provider WorldLink Communications has launched a 'Happy New Year' offer targeting the nepali New Year 2078 BS.
With the end of the year 2077 which was a year dominated by the coronavirus pandemic, there is hope that the new year 2078 will bring happiness, prosperity and good health.
The company has stated that it has brought the 'Happy New Year' offer with the same expectation.
The company has stated that it will provide a discount of upto 62 percent on internet packages of 20 Mbps, 40 Mbps and 80 Mbps for 12 months.
The company has stated that customers who subscribe to any of the 20, 40 or 80 Mbps package in this 12 month offer, will get free NetTV service for 12 months.
Worldlink has stated that these package will also include a three-month Net TV Prime package which offers a library full of old and latest movies.
The company has also stated that it will provide dual band router for WiFi absolutely free. Along with the router all other hardware are also supplied free of cost. The company will provide free setup box for watching NetTV along with connection, YouTube and other contents.
"As the New Year is a time of celebration, we want our new and old customers to enjoy high-speed internet with maximum discounts and free offers on otherwise available paid services," said Dilip Agarwal, President, WorldLink. "We are constantly working for the happiness of our customers." he added.