Yamaha unveils Freedom Initiated – FI 2078 Offer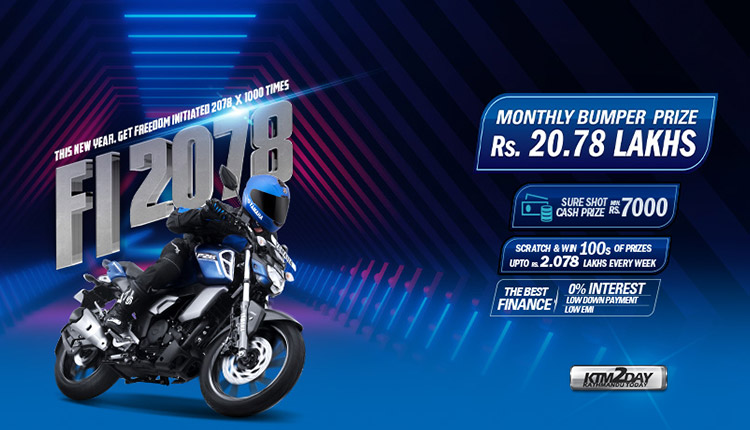 Yamaha Nepal has brought forward its promotional Freedom Initiated (FI) New Year 2078 offer for two-wheeler customers.
To make the new offer exciting and grand, Yamaha Nepal has announced to give Rs. 20.78 Lakh as bumper prize to the lucky winner each month. In addition, consumers will be able to win hundreds of prizes up to Rs 2.078 lakh every week through scratch cards.
Also Check : Yamaha Motorcycles Price in Nepal
Yamaha Nepal has also come up with an excellent financial plan with the objective of providing more convenience to the consumers. Accordingly, motorcycles and scooters can be obtained with 0 percent interest or low down-payment and low EMI facility.
Giving information about the promotional plans for the New Year, Chiranjeevi Shah, CEO of Yamaha Nepal, said, "Covid has made 2077 a very difficult and narrow environment for all of us. Putting aside the bitter experience of the past year, we now expect the New Year 2078 to bring back the enthusiasm and happiness. With that expectation in mind, we are moving forward with the plan. We hope that it will bring more happiness to our esteemed customers and lead the freedom initiative in the year 2078. Modernizing the range of our vehicles, Yamaha has been stepping up in the game with FI technology. That's the wonderful experience we want to provide our customers with our diverse products. We believe that many customers will benefit from our product and gift plans. '
Yamaha has become the first brand in Nepal to provide fuel-injected motorcycles and fuel-injected scooters and has been leading the market in state-of-the-art two-wheeler vehicles market.