Smartphone is where the growth is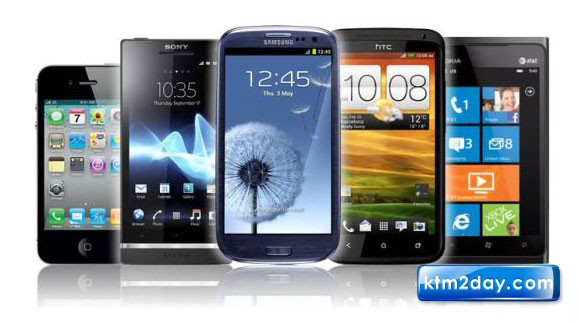 With technology playing a larger role in the lives of the general people, sales of smartphones have been picking up in a big way in the country. While cell phones from other segments are witnessing nominal growth, smartphones are seeing their market grow at a brisk rate of 20-25 percent annually.
"The Smartphone segment is growing globally, and Nepal is no exception. The market here has immense scope and an increasing number of people are using smartphones," said Dikesh Malhotra, president of International Marketing Services, the sole authorized distributor of Samsung mobiles in Nepal. "Since we have prioritized the smartphone segment, we are collecting 70-80 percent of our annual revenue from smartphone sales." Samsung is the largest smartphone seller in the country, with the company claiming a 60 percent market share in the segment.
According to Malhotra, the increasing utility of smartphones has made them the most preferred device in the market today. The set fits easily in the pocket and it performs the functions of many devices like camera, walkman and computer, among others. Similarly, another prominent smartphone seller Pashupati Trade Links, the sole authorised distributor of Micromax mobiles in Nepal, said that the smartphone segment is the most happening one in the country's cell phone market. "It is utility which has added to the massive expansion of smartphones in the country," said Siris Murarka, director of Pashupati Trade Links.
The company, which offers a wide range of products from low-end bar phones to high-end models, said around 35 percent of its total annual revenue comes from smartphones. Micromax deals in smartphones ranging in price from Rs 5,000 to Rs 30,000.
Another factor which has played a crucial role in the increasing penetration of smartphones in the country is the entry of several brands which has increased competition and helped to push down prices. From global biggies like Samsung, Apple, Sony, HTC, Nokia, LG and Motorola to Chinese and Indian brands like Micromax, Colors, G'five and Lava, among others, the competition has escalated massively with major phone makers supplying devices catering to the demand of people from all economic backgrounds.
"Smartphone has different utilities for different people," Murarka said. "It might be a means of easy connectivity for people from the corporate fraternity, a convenient device for gamers and a cost effective way for remaining in contact for those having relatives abroad." Apart from Kathmandu, the market for smartphones is also increasing in semi-urban markets, he added.
Traders predict that the smartphone market in the country is bound to go up further in the days to come with awareness among the people in rural Nepal increasing.