Smartphone sales grow as prices drop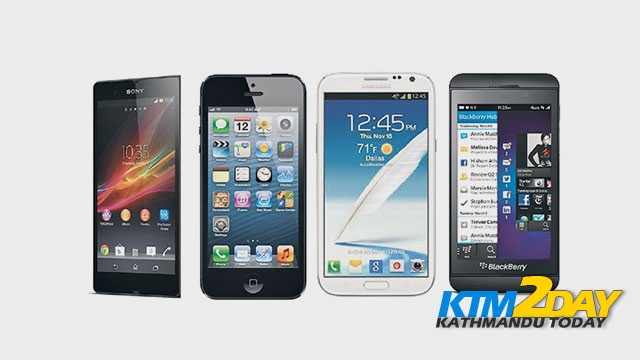 Smartphone sales have risen significantly in the domestic market amid narrowing price gap between feature phones and smartphones. Handsets in the price range of Rs 10,000 to Rs 15,000 are more popular, with the rural market driving the sales growth, traders say. Indian and Chinese budget smartphones, which offer features of high-end devices at relatively lower prices, have played a key role in the momentous growth of the domestic smartphone market.
Purushottam Basnet, former president of Nepal Mobile Traders Association said the mobile devices market has been growing 15-20 percent annually. "New brands are entering the Nepali market and more launches are happening," he said. "In the last years, half a dozen new mobile brands entered the market."
Over the last year, brands like Lenovo, Huawei, BQ, Xolo and Intex, among others, entered Nepal, appointing distributors. "Moreover, brands like Celkon, Coolpad and HTC are also coming soon," said Basnet.
According to the association, there are more than more than two dozen smartphone brands in Nepal. Basnet estimated the domestic mobile phone market size at Rs 12 billion. "Around 60 percent of the 15 million of domestic mobile phone customers use smartphones," he said.
Nepal imported mobile phones worth Rs 5.75 billion in the last fiscal year, according to the Customs Department statistics. Call Mobility, authorised distributor of Huawei, recently launched the Honor 3C smartphone. The Honor 3C is powered by a 1.3GHz quad-core processor and runs Android 4.2.2 Jellybean operating system. It comes with a 5-inch screen, 2GB RAM and 5MP front and 8MP rear cameras.
Home grown brand, Colors, has also launched around half dozen new models over the last month. The latest Colors X805 smartphone comes with a 5-inch FWVGA screen with 1GHz dual core processor, Android 4.2.2 Jelly Bean OS and 5MP rear camera. Traders said smartphones with the latest operating systems, larger screens, and dual SIM functionality are high in demand.
"Customers these days ask about the latest operating systems like Kitkat, screen sizes of 4.5 to 5 inches," said Sama Shrestha, business development manager at CTV Mobile, Newroad. To cash in on the growing demand for smartphones, Constellation Saving and Credit Cooperative is planning to open more than 100 mobile showrooms on the fourth and fifth floors of CTC Mall, Sundhara.
Basnet, who is also the president of Constellation, said the mobile market at offering one-stop shopping experience for customers when comes to mobile devices. He said the market will have a wide variety of mobile phones from brands like Samsung, Nokia, Huawei, LG, Sony, Colors, Karbonn, BQ, Lenovo, DTC, Lava, Xolo, Intex, Micromax, Wynncom and Panasonic, among others. The market will open from the last week of July.