Imported chocolates take big bite of local market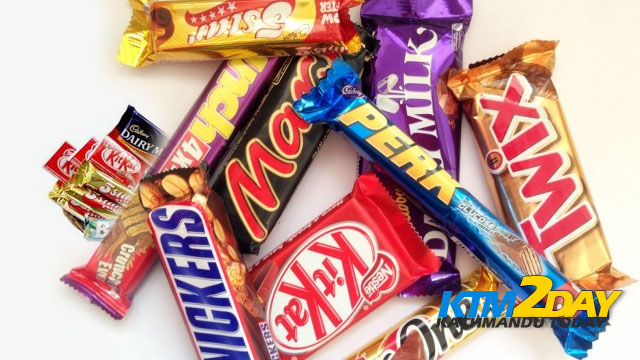 Imported chocolates have maintained a firm grip on the domestic market capitalizing on the inability of local manufacturers to diversify their product range and cater to market demand.
The market share of foreign sweets comes to 80 percent and is growing every year, said traders. Foreign brands like Dairy Milk, KitKat, Mars, Snickers, Choco Pie and Toblerone are among the top selling chocolates in Nepal.
The scale of market penetration of imported chocolates can be gauged by the fact that 5.71 million kg of chocolates valued at Rs 1.82 billion passed through Birgunj Customs Office in the first 10 months of the current fiscal year. Imports amounted to Rs 1.36 billion during the corresponding period in the last fiscal year.
Indian products amounted to Rs 1.35 billion out of the shipments that passed through Birgunj Customs this year. The rest of the imports originated in a number of countries. Most of the Cadbury brand chocolates sold in the domestic market are manufactured in India, said traders.
According to Tanka Poudel, section officer at the Birgunj Customs Office, most of the Cadbury chocolates entering the country are from India. According to him, shipments from China, Thailand, Turkey and Europe too have been growing.
"Chocolate imports are swelling by around 20 percent every year," said Ram Chandra Khetan, proprietor of Khetan Overseas, one of the leading chocolate importers in Nepal. "Since Nepali companies have not been able to introduce new products as per market demand, imports have been soaring."
Khetan Overseas imports Rs 30 million worth of chocolates annually. He has another company named Nikhil and Brothers which imports the same amount of chocolates. Apart from these two, there are around 50 other noteworthy chocolate importers in the country.
Khetan said that customs valuation had increased of late giving the false impression that chocolate imports had surged. "Two factors, an increase in the customs valuation of chocolates and a rising US dollar against the Nepali rupee, has led to an increase in the price of imported chocolates," said Khetan. There has been not much growth in terms of quantity, he added.
Imported chocolates costing in the range of Rs 1,000 to Rs 3,000 per kg sell well in the Nepali market.
Meanwhile, Antim Ranjit, branding and marketing manager at Mega Mart which operates a chain of seven Big Mart department stores in the Kathmandu valley, said chocolate sales accounted for 3 percent of their turnover. "Sales of Nepali chocolates are negligible. And that is solely because of the unavailability of products," he added.
According to Ranjit, Nepali manufacturers are only focusing on candy chocolates. "Local products like Choco Fun are selling well which means that if there is an attractive product it will become popular." As for preference, jelly chocolates are popular among kids, while Cadbury is more popular among teenagers.
According to traders, the market share of domestically manufactured chocolates in monetary terms is less as local products consist of candy chocolates while imported products like Cadbury are relatively expensive.