Demand for Reva e2o revs up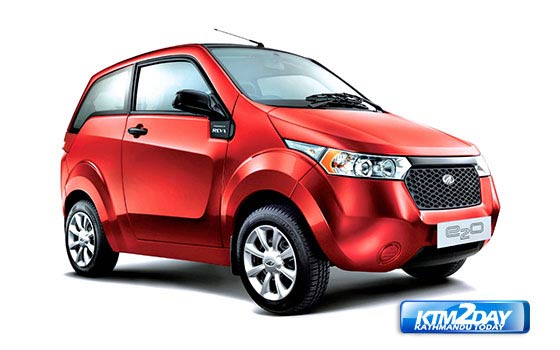 With growing concern over fuel crisis and pollution caused due to petroleum product based vehicles, customers have gradually begun emphasising on eco-friendliness of electric cars. Though the initial cost of these vehicles is a bit higher than others, their operating cost is nominal. Moreover, they are also economically efficient in the long-run. With all these features, electric cars have become a better alternative to petrol and diesel run vehicles.
After the short supply of petroleum products in the country, people have started looking at electric cars as an alternative means of transport. According to Agni Energy, authorised distributor of Mahindra Reva electric cars, they have sold out all six Reva e2o electric cars during the recent crisis of petroleum products in the county. Citing that they have been receiving an impressive number of inquiries about Reva e2o after the fuel crisis, Manager at Agni energy, Pramod Bhandari said, "It seems Nepali people have become more conscious and aware about the utility and value of electric cars due to the crisis."
Informing that their vehicles are also stranded at the customs, Bhandari said, "There was a significant number of orders placed for Reva e2o but we could not deliver." Stating that the market for electric cars seems to be promising in days to come, he said, "We aim to sell around 70 units of Reva within this fiscal year." The Reva e2o is priced at Rs 2.435 million. Introduced in the Nepali market in 2007, there are currently around 200 Revas cruising Kathmandu's roads. The latest variant of Reva e2o runs 120 km on full charge and has new additional features along with electric steering.
The vehicle is equipped with three-phase induction motor which delivers maximum power of 19 kW at 3,750 rpm and provides maximum torque of 53 Nm at zero to 3,400 rpm. e2o is armed with 48 V maintenance-free lithium-ion. It has rack and pinion steering mechanism with fully automatic transmission. The front suspension has MacPherson strut-gas filled and gas filled shock absorber with coil springs in the rear suspension. The small vehicle is 3,280 mm long, 1,514 mm wide and 1,560 mm tall. The wheelbase is at 1,958 mm with ground clearance of 180 mm and weighs 830 kg. The regenerative brake puts back energy in Li-ion battery whenever you slow down or brake and the pre coloured body panels avoids painting of body panels and reduces pollution.
The vehicle is chargeable at home with any 15 Ampere plug point. It has also made driving easier through its GPS navigation that has a 6.2-inch touch screen. In terms of comfort and convenience, the car is fully automatic which makes driving in bumper to bumper traffic a breeze. The hill hold feature prevents the vehicle from rolling backwards on inclines. It also comprises of remote lock/unlock, remote AC operation and the patent technology REVive remotely activates a reserve. The vehicle is also remote diagnostic and the customers receive SMS and e-mail if any fault is detected. Another highlight of e2o is its Reva app store.
The electric techno-logy that is used in the e2o makes sure it runs on clean energy, which in turn makes emissions obsolete. With the Intelligent Energy Management System and 10 on-board computers, the Mahindra e2o gives you real-time drive information for an exciting and safe journey. Its self diagnostics sends you alerts in case of any fault. The versatile Infotainment system offers a host of media options to choose from and helps you plan your daily trips.
e2o Plus P8(72V)Price – Rs. 31,00,000 (Aug 2018)