Nepalis spend prime of their youth toiling in foreign lands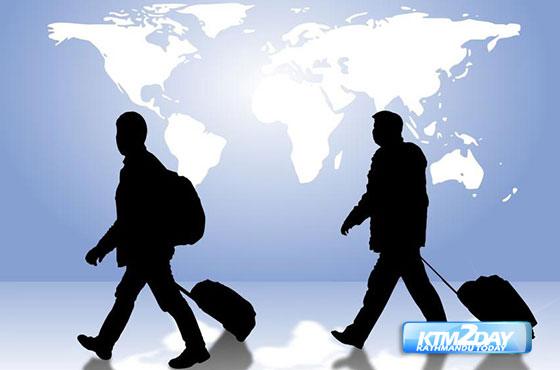 Lack of job opportunities within the country is forcing many Nepalis to spend the prime of their youth toiling in foreign lands, a study has shown.
A recent report of the Ministry of Labour and Employment (MoLE) has revealed that around half of the outbound Nepali migrant workers fall within the age bracket of 26 to 35. A total of four million Nepali migrants are employed abroad, mostly in the Gulf countries.
While analysing the data of migrant workers, who had applied for labour permits on their own in fiscal year 2014-15, the ministry found that 47.15 per cent or 16,214 were aged between 26 and 35.
Of the total 34,384 migrants that received permits to go for foreign jobs on their own initiative that fiscal, 25.9 per cent were aged between 36 to 45. Those aged between 18 and 25 formed 21.1 per cent of the total, while 5.9 per cent comprised job-seekers who were 46 years and older.
The country has a burgeoning working-age population, which is defined as those aged between 15 and 59 years. The working-age population will increase to around 57 per cent in 2019, from 54 per cent in 2011, as per the population census commissioned by the Central Bureau of Statistics (CBS) in 2011.
It is believed that a country with a large working-age population can achieve economic progress at a faster pace as compared to those with lower number of such population. In this context, it is quite an irony that Nepal has been exporting labour rather than creating job opportunities for them within the country that could accelerate economic growth.
According to the report, a huge number of working-age population is also employed in India, which is not in the record of the government agencies, as Nepal shares an open border with the southern neighbour.
"As the working-age population will rise to 57 per cent by 2019, the country needs to reap the benefits of this group to transform the country from its underdeveloped status to a vibrant developing economy," said Yubaraj Khatiwada, vice chairman of the National Planning Commission.
The country will be able to generate around 400,000 jobs within a year through accelerated reconstruction drive, regular development activities and from the manufacturing sectors like carpets and garments, among others.
"If construction of some mega hydropower projects is started in the near future, the country could generate a huge number of jobs, because construction of such projects is labour intensive," he stated.
As per MoLE, around 400,000 fresh working-age population enter the Nepali labour market every year. Among them, over 90 per cent are believed to leave the country to seek job opportunities abroad.
As per the MoLE report, which was prepared with support of the International Labour Organisation (ILO), around 33.34 per cent of the migrant workers are working in Malaysia, followed by 19 per cent in Qatar and 18.93 per cent in Saudi Arabia.
Similarly, United Arab Emirates (9.82 per cent), Kuwait (2.46 per cent) and South Korea (1.3 per cent) are the other major labour destinations for the Nepali migrant workers.
The report identified the aforementioned countries as the top labour destinations by analysing the migration trend between fiscal 2008-09 and 2014-15.