Simrik Air adds Bell 407GXP helicopter to its fleet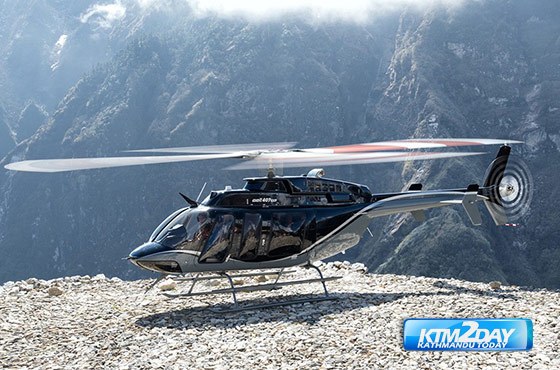 In a bid to set a new benchmark in Nepal's aviation sector, Simrik Air Pvt Ltd added the first Bell 407GXP helicopter to its fleet today.
The launch ceremony and delivery of the helicopter was done jointly by Bell Helicopter and Simrik Heli Trades Pvt Ltd to Simrik Air, according to a media release.
The Bell 407GXP 'is an integration of reliability, speed, performance and comfort that takes heed to an array of missions and payloads'.
The specifications of Bell 407GXP include Rolls-Royce 250-C47B/8 turbine FADEC engine that delivers exceptional hot and high performance with the ability to cruise at 133 kts/246 km/h. Its spacious cabin has five club-passenger seats with an additional passenger seat in the cockpit in single pilot operations. For added passenger comfort, the Bell 407GXP also provides a very quiet and smooth ride in virtually all weather conditions.
Moreover, the integration of flight instruments, engine instruments with power situation indicator, traffic information system, helicopter terrain avoidance warning system, moving map, pathway-in-the-sky and Garmin's Helicopter Synthetic Vision Technology provide a higher level of situational awareness for pilots, according to the manufacturer.
Established in 2001, Simrik Air is a leading helicopter company in the country with superior track record in high altitude rescue services, recreational tours and adventure tourism. "With additional Bell 407GXP helicopter now in service, Simrik Air will be one of the foremost and responsible helicopter companies in Nepal to provide the best and secure service in all sectors."