Huawei P40 Pro : This could be it's rear design with five cameras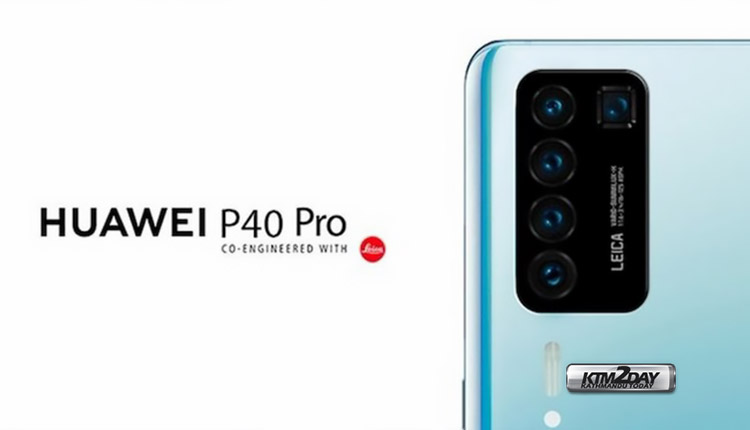 Huawei is one of the biggest contributors to raising the 'game level' of smartphone cameras in recent years. Great examples of this are the P30 Pro or the Mate 30 Pro, which turned out to be true photographic chameleons.
Huawei has always given special attention to cameras in its flagships and constantly tried to introduce new features and technologies into them. The upcoming Huawei P40 Pro flagship will not be an exception.
What is certain is that the camera should once again be one of the big promotion points for the upcoming Huawei P40 Pro. The latest image revealed shows that we can expect five cameras at its rear.
This image was unveiled in Chinese media recently, and you should note that this is not an official image but just a 3D render.
The image shows the Huawei P40 Pro in pale blue colors. The rectangular camera module accommodates a total of five sensors – four vertically located on the left and a fifth, highlighted in a square, on the right. The latter seems to be a periscope camera with 10x optical zoom, which had previously been rumored. The LED flash is located below the main module.
Remember that what we have so far is 10x hybrid zoom. Combining hardware and software, it ends up negating the negative effects of digital zoom such as noise artifacts. On the P40 Pro, the hardware alone can handle this  issue.
Mian Chi Guo, an analyst at Tianfeng International, shared information that the P40 Pro will have a telescopic telephoto lens that provides 10x optical zoom. This is a significant improvement over the Huawei P30 Pro telephoto lens, which provided only 5x optical zoom and 10x hybrid.
The analyst's report predicts that these telephoto lenses with 10x optical zoom will also be used for high-end devices from the Nova, Honor, and Mate series.
Min Chi Go also states in his report that the flagship Huawei P40 Pro will be priced from 4,000 to 5,000 yuan (about $ 570- $ 715).
Samsung Galaxy S11 + will be the big competitor
The first official unveiling of the Huawei P40 Pro with five cameras can take place during Mobile World Congress in late February. The official launch dates of upcoming Samsung flagships  — Galaxy S11 is speculated to be on early February.