Nepal Telecom SEE Offer : Free voice and data pack for 1 month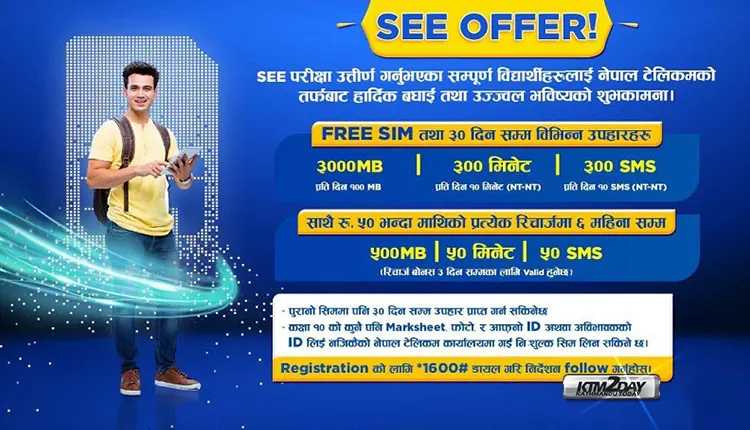 Nepal Telecom will provide free sim cards under SEE offer to students who have passed this year SEE exams. The SIM will be available free from across the country from Nepal Telecom offices.
According to state-owned telco, if the student already has NT's sim, this new offer will be activated on the existing sim card.
Telecom has stated that in order to get a new SIM card, students have to submit a photocopy of class 10 gradesheet, a photocopy of their own or parent's citizenship.
To activate this offer, a user has to dial *1600# and follow the instructions on the USSD. Students have to enter their Symbol number followed by birth date in order to activate this offer.
After activating the pack, students are entitled to 10 minutes of talk time daily, 10 sms daily and 100 MB data on a daily basis. The offer lasts for 30 days which provides in total  – 3000 MB data, 300 sms and 300 minutes of talk time under this pack.
The facilities mentioned above will only be applicable on the network of Nepal Telecom.
Additionally, users will also be able to activate "Bonus on Recharge pack" on a new sim card from Nepal Telecom. On a balance top-up of Rs 50 and above, users are offered 500 MB of data, 50 minutes of talk time and 50 SMS at any time of the day on each recharge.
Telecom plans to provide this facility on recharge for up to 6 months. This bonus offer must be used and will be valid for only three days.
Telecom has stated that e-learning packages can be availed as per the requirement on the SIM. Nepal Telcom has also extended e-learning package from 5 am to 5 pm.
Students who subscribe to Telecom's service will have a main balance of Rs 10 on the new sim card. The company has stated that calls, messages and data can be used on any network. Apart from this, 40 minutes of talk time, 20 SMS can be used within the telecom network and 60 MB of data can be used within a month.
The new sim card offer under the SEE offer will be available for three months.